THE GOOD:
Many languages provided
Great app
THE BAD:
No live chat
Poor support
How it works?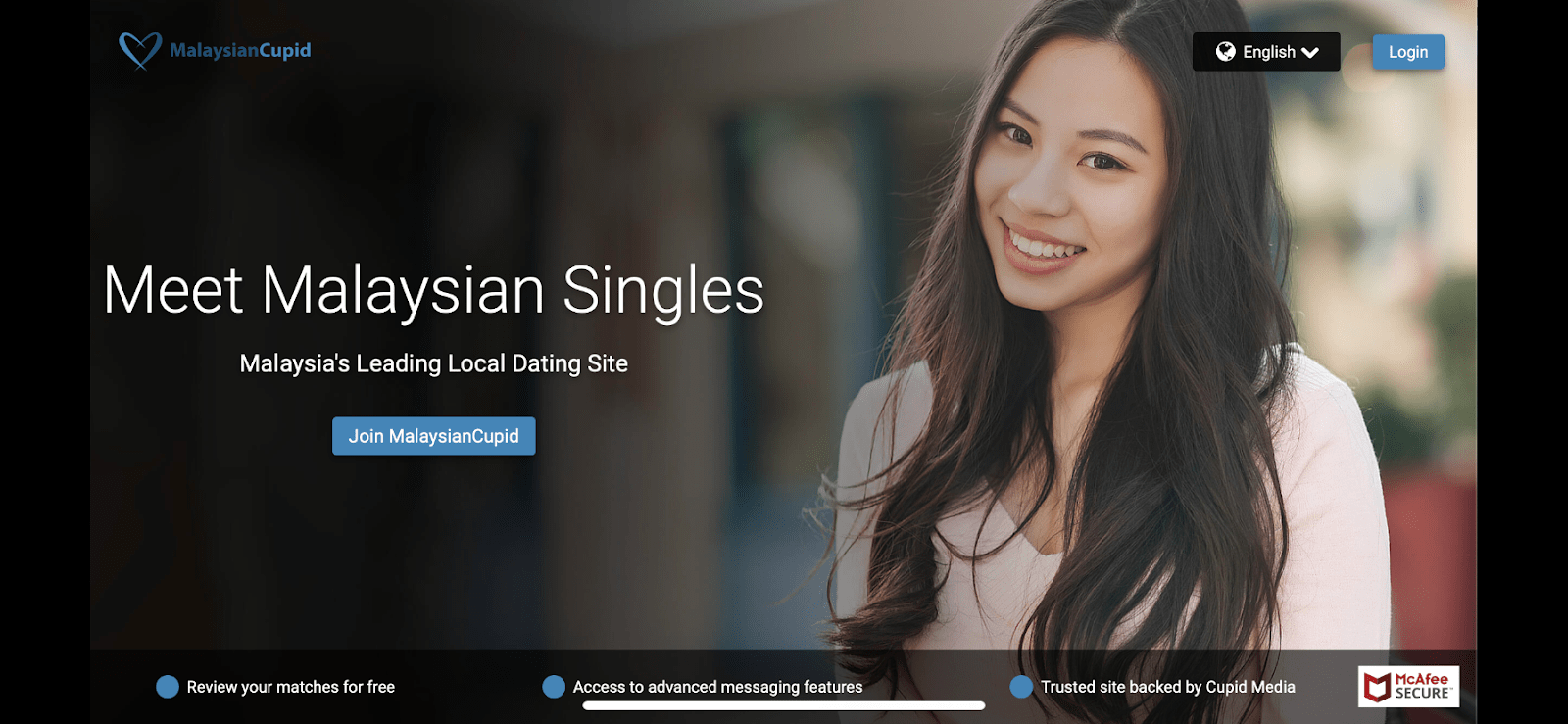 First, you need to go to malaysiancupid com. Once on the site, you can sign up for the service using the registration form on the left. You just need to hit the "View Singles now" button. By the way, at the top right corner, you can choose between over 15 languages. To complete a registration form, you need to come up with your email and password, as well as enter your first name, sex, your partner's sex and age. Alternatively, you can undergo the registration via your Facebook account. As soon as you've finished, you're free to add info to your profile. Let's do this right now!
First, go to "Settings" and then choose "edit profile". 
There are a lot of forms you can fill in to complete the description of yourself in your profile. However, we're going to consider the first and the most basic one. There, you basically introduce yourself from scratch. You can edit the data you submitted during the registration and describe your appearance. You can complete the latter in rigorous details, specifying your hair type, color, length, your eye color and wear, and pointing out your body constitution and ethnicity. You can also specify your cultural background and lifestyle. Only here can you sincerely express your religious convictions, marital status, attitudes towards bad habits, etc. 
When you're done with your profile, it's time to proceed to the search of matches. For this, go back to the main page where you can view thousands of matches. You can click on a profile to find more information. Also, you can view all the photos by clicking on the corresponding sign of the camera. To express your interest in the wordless form, you can make use of the "like" function. But if you feel that this is all insufficient for you, you can always use the advanced-filter search. Thankfully, malaysiancupids provides plenty of search criteria. Among them are your sex, your partner's sex, their age range, their profile, etc. You can also determine their location, the goal of your communication, their background, and cultural values. You can finish the form by giving the name to your specified criteria in up to 50 characters. 
Pricing
You can't disagree that pricing plays one of the most important roles when choosing a dating service, so we can't omit this factor. MalaysianCupid gives you an opportunity to choose between three membership options: Standard membership (free), Golden membership, and Platinum membership. The last two subscription options are not free, but they give you more opportunities to communicate and provide you with unique features that you can't use in the Standard mode. The service proposes two membership plans which you can buy for a month, three months, or a year. The Platinum membership is the most expensive one, but the service often pleases its customers with discounts. You can see all the prices at the screen:
Audience
It's obvious that the site was created mainly for women from Malaysia. However, the company provides everyone with an opportunity to register on the site. The service is available for residents of all countries without any prohibitions. However, you are not allowed to sign up if you haven't reached the age of 18. This is the only restriction you can't violate because the service strictly follows the law and provides only legal relationships to its clients. The majority of users are 20-30 years old. So, the service is mainly used by young people looking for their true love and willing to start a family.
Safety
MalaysianCupid takes the security of the service customers seriously, so you can be confident that your data won't be transmitted to the third party. The company also excludes any fraud attempts, so you are guaranteed that all your actions within the app will be secure and safe. Moreover, all the profiles are thoroughly checked by the service team before registering them on the site. In the end, you shouldn't doubt that all your financial transactions are safe because the company has taken all measures to prevent any data leakages and protect your personal information.
FAQ
What is Malaysian Cupid?
Malaysian Cupid is an online dating platform that belongs to the family of Cupid Media Pty LTD that also produces other dating sites for Indonesia, India, and Asia.
How much does Malaysian Cupid cost?
The company provides the gold and platinum subscriptions. The prices are as follows: 
The platinum subscription
12 months — $119.98 in total($10.00 monthly) 
3 months — $59.99 in total ($20.00 monthly)
1 month — $29.98
The gold subscription
12 months — $99.98 in total ($8.33 monthly) 
3 months — $49.99 in total ($16.66 monthly)
1 month — $24.98  
Is Malaysian Cupid Legit?
Yes, if it hadn't been so, it would not have been operating for so long. The company has a license to operate on its business. 
Who owns Malaysian Cupid?
The company is owned by Cupid Media Pty LTD. 
Does Cupid Legit have a mobile app?
Yes, it does. You can access it via the App Store and Google Play. 
How do I delete my Cupid Legit account?
You can deactivate your account in two different ways. You can contact the customer support and inform them that you no longer want to be the holder of a Thai Cupid account. Or, you can go to the settings and press "delete my account".