THE GOOD:
Secure payments
Low prices
THE BAD:
Lots of unnecessary ads
Registration is long and tough
They're asking too much personal information
No mobile application
Limited audience
How it works?
To start with Indiamatch.com, you have to select the Search Now button on the main screen of the service. One thing to notice though is that you have to be a resident of the US or Canada to enter the registration process from this step. In other geolocations, the service isn't operable.
The next step is about selecting the country of your residence. As you can already see, their number is limited. You can choose either the US or Canada, so this Indiamatch review proves that the website isn't ready for other countries to connect single hearts. 
Other Indiamatch reviews do not indicate that the service wants to get your Zip Code. But they need it to allow their system to deliver matches that are close to your home location. However, we want you to pay attention to the disclaimer in the lower part of the popup. No criminal background checks are conducted, meaning that you may meet scammers online, and the service won't be responsible for any kind of possible fraud. 
Your name and password will be asked further. Notice that only letters, hyphens, and apostrophes are allowed for the First Name. Password requirement is between 4 and 16 characters.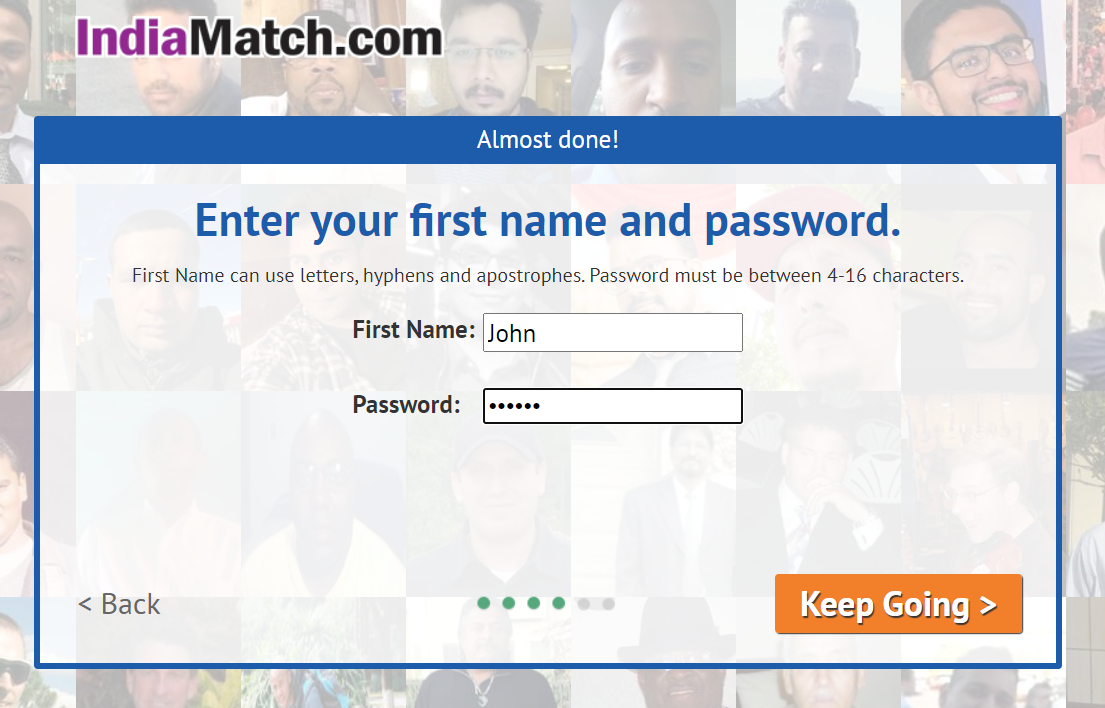 The date of birth is the next destination point on your registration journey. All you have to keep in mind is that the age of consent according to the terms of use on IndiaMatch is 18+, so if you're below that age, switch to something like Tinder. 
The final step before getting your profile approved and letting you customize it is giving your email address for double verification. When you're done with it, IndiaMatch will give you access to the profile you can customize and search for other people ready to date. 
Audience
Considering that the service is only available in the US and Canada, the bulk of the members includes citizens of these countries. However, the large portion of users are real people from India who grew up abroad and decided to move to a new country, mostly permanently. Some of the users are children of the Indian descent for a generation or two, so their appearance is rather mixed and you cannot distinguish them from other Americans in the first place. 
Pricing
The registration on IndiaMatch is free, and anyone can start using the service easily. But, you have to know that free membership means very reduced functionality of the service in total. 
In general, free features include:
Sending flirts

Adding members to favorites

Using search filters
Paid membership opens such features as:
Reading and writing text messages

Instant chat with all users

Profile highlights

Viewing users who sent you a flirt and included you into the list of favorites
In 2023, you can pay for the premium membership in several tariff plans, yet there is only one premium model provided by the service:
One-month subscription. You pay $13.99 when choosing rebilling every month.

Three-month subscription. This subscription asks for $26.97 for a single payment. It means that you pay a reduced $8.99 fee for every month. 

6-month option. This membership costs you $38.94 in a single payment. Monthly, it means $6.49 as a discount price. 
Safety
Obviously, IndiaMatch cannot guarantee 100% user security, as possible problems could arise from other users who practice malicious ways of catfishing or fraud. IndiaMatch has a separate security page that you can address in case someone wants to get your private data for blackmailing or stealing financial info. The rule of thumb to remember here is not to give any personal data to other users who ask for it persistently. If you notice any kind of suspicious behavior, the right strategy would be to contact the moderators to give that person a ban. They'll also come in hand when resolving the log in issues with your account.
FAQ
What is IndiaMatch?
IndiaMatch is the online dating website for singles interested in meeting a person of Indian origin. It's designed for Indian singles originally, but there are also users of other skin colors who can register freely to find a person of Indian origin for dating and relationships. 
How much does IndiaMatch cost?
The prices are the following
One-month subscription. $13.99 – rebilling every month.

Three-month subscription. $26.97 for a single payment. Reduced $8.99 fee for every month. 

6-month option. Membership costs you $38.94 in a single payment; $6.49 – monthly. 
Is IndiaMatch Legit?
IndiaMatch is a legit dating service that follows all web legislations which make it credible. They do not offer 100% user security but provide all the support in scam reporting cases. 
Who owns IndiaMatch?
IndiaMatch is the property of People Media Inc. The company specializes in Internet-based services of different ranges and according to user intent. The company owns several other dating solutions that currently operate in 2023. 
Does IndiaMatch have a mobile app?
The best way to use IndiaMatch is via mobile version of the service. They also have the Android app, but it's quite outdated and hasn't been supported by the latest OS versions. 
How do I delete my IndiaMatch account?
You can cancel membership at any time in account settings. Memberships can be closed down at any minute, yet IndiaMatch doesn't provide any refunds.