THE GOOD:
appealing design;
easy registration process;
THE BAD:
high prices;
absence of a mobile app;
ethnicity-based audience.
How it works?
During our first visit to the HyeSingles website, we were impressed by the simplicity of its design. It was developed in eye-friendly light green and white colors. Its homepage looks minimalistic enough for the demanding customer. At the top right corner of the screen, you can find the 'Login' button. Below it, there is a form of quick registration.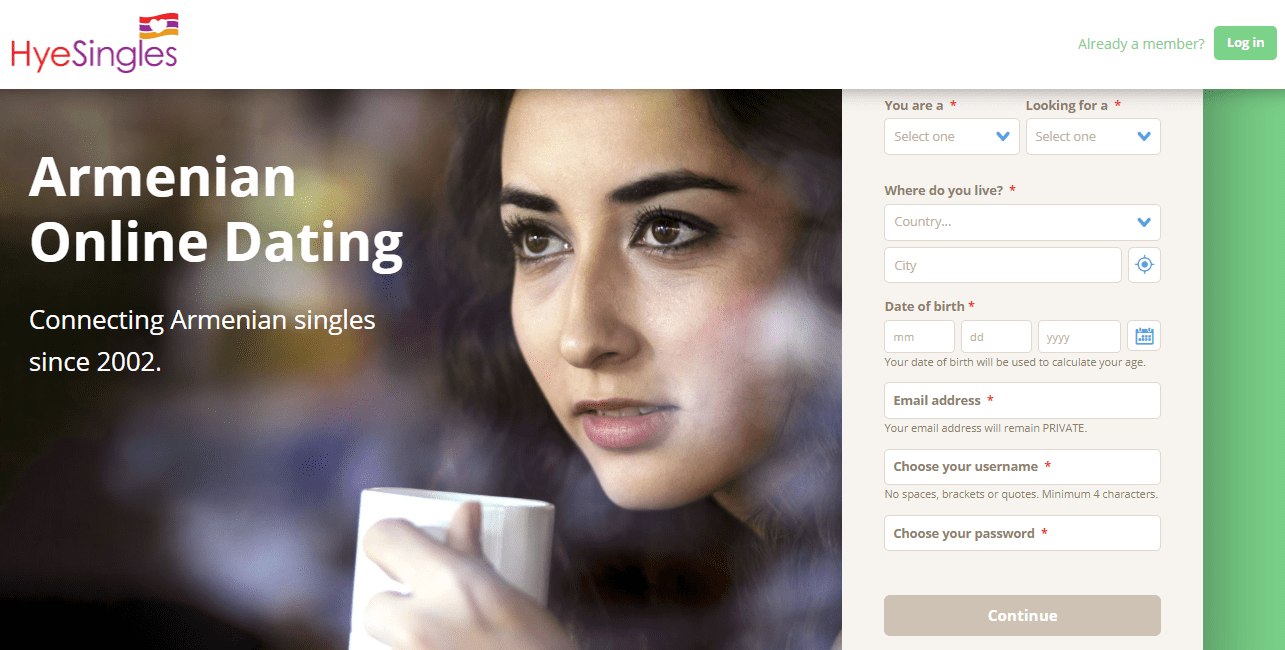 As we scroll the page down, we can see a few facts about how the platform works, the promises of the best service for new and existing customers, and short information about the website mission. At the very bottom, you will see a few buttons that will take you to the 'About us' page, FAQ of the company, Terms of Use, contacts, and more. As you can see, HyeSingles is not loaded up with a lot of advertisements, pop-up messages, etc. We consider such an attitude towards customers as decent and fair.
Now, let's see how you can sign up to HyeSingles. To do that, you need to use the form on the homepage.
As you have already noticed, all its fields are obligatory. When you are done with inputting all your information, click the 'Continue' button. 
Next, you will see a window with the congratulation on your registration on HyeSingles and invitation to add more facts about yourself.
After clicking on the 'Continue' button, you will see a short quiz with regular questions like your body type, height, interests, marital status, religious and political views, etc. It is designed in a fun way to amuse you while setting up your account.
When you are done with the quiz, you will be asked to provide a selfie or a picture of yours. 
You can omit this step if you want.
The 'Next' button will redirect you to the personal dashboard, from which you can view the matching profiles, search for Hye Singles ladies, edit your profile, and more. It will look like this:  
The 'Search' button will take you to more detailed filters of profiles. By default, you will be the woman of the age range proposed by the website. You can edit these settings on the right if you wish.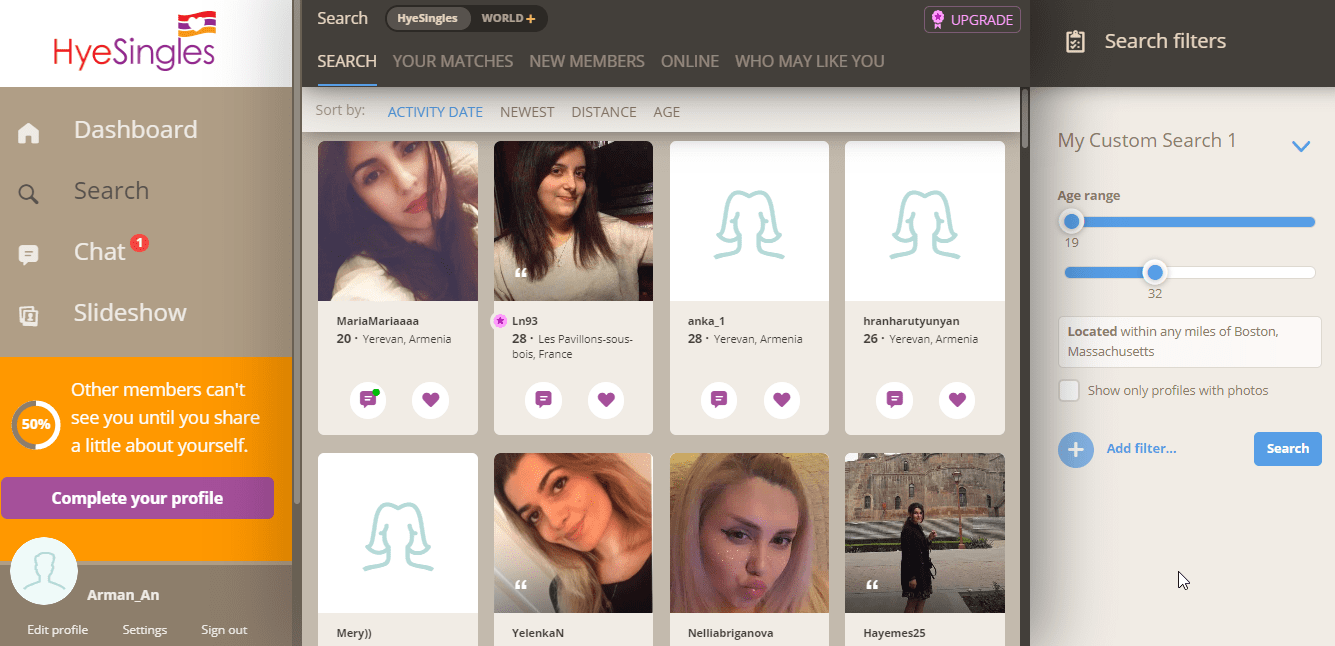 Also, you can add filters to your search to make it more specific. The filters include family roots, religion, race, and physical characteristics.
To see even more filters and apply them, you need to upgrade your membership. 
So far, we liked what we have seen on HyeSingles. The customer interface is friendly to a newly registered user, as well as to a guest of the website. All tabs and buttons on HyeSingles Com are working well. Hence, we can say that the website is rather reliable. 
Audience 
The Hye Single mission is to help people of Armenian descent to find each other. Consequently, the vast majority of the profiles consist of Armenian women and men. Mostly, women of 20-40 years old are registered here. Men are slightly older on this website. Overall, there are more than 200 000 customers from the US on the website. Still, almost all of the active users are single and don't have kids, so if you are looking for a young person to start a serious relationship with, you can find them here for sure.
To evaluate the audience of the website, we encourage you to look through the search categories that you can see on top of your search results.
In particular, 'Your matches' and 'Who may like you' tabs will tell you about your potential partners. However, we would like to remind you about the necessity to fill out your profile details entirely, as the above-mentioned tabs collect the matching profiles according to your data. 
Pricing 
To see the HyeSingle price list, you need to click on the small 'Upgrade' button that you can find at the top of the screen in your dashboard.
The prices range depending on the period you'd like to be a Platinum member (the longer the period, the less the monthly rate will be). 
The Platinum membership costs $39.99 for one month, $89.97 for three months, and $149.94 for half a year. As you can see, the 6-month Platinum package is the most profitable.
The features you will get access to after choosing either of the packages are:
the ability to chat with any user;

multiple search filters;

higher rating among other profiles;

advertisements' removal.
Despite the number of features provided on the prepaid basis, we have to admit the pricing of HyeSingles Com is higher than that of its competitors. Thus, we advise you to think twice before upgrading your profile. 
Safety 
The company claims to care about the customers' security and the safety of their personal information. As stated on the Hye Singles FAQ page, all messages sent through their platform are encrypted and cannot be accessed by the third parties, as well as email addresses, phone numbers, and other details that you provide during the signup. 
To ensure privacy of the payments, HyeSingles offers a few methods you can use:
PayPal account;

Credit card;

Physical check.
All transactions are done through PayPal, so you don't have to worry about your privacy and safety of your money. 
To protect yourself from any fraudulent activity, HyeSingles advises to keep your phone number, email address, and other personal data safe and not to disclose it during communication with other users of the platform. You can do it only if you have established mutual trust with the customer and are about to go on your first offline date. 
The quality of profiles on Hye Singles is not that perfect as it was reported by the customers. The following HyeSingles review of a lady tells more about her experience.
FAQ 
What is HyeSingles?
Hye Singles is an online dating site for Armenians from all over the globe. The website hosts both men and women to help them find their love regardless of the distance. 
How much does HyeSingles cost?
There are three Platinum packages available for different periods. A one-month membership price is $39.99, a three-month membership price is $89.97, and a six-month membership price is $149.94.
Is HyeSingles legit?
Overall, we can consider the company as legit. However, there are a few negative testimonials of customers on the web, so it is up to you to decide whether to use this website or not. 
Who owns HyeSingles?
World Singles, LLC owns a group of dating websites, including HyeSingles Com.
Does HyeSingles have a mobile app?
No, HyeSingles has not developed a smartphone application yet, but you can use a mobile version of the website instead. 
How do I delete my HyeSingles account?
To remove your profile, find a deactivation button in your profile settings and click on it.