THE GOOD:
Fast registration
Convenient layout of the website
Around-the-clock support chat
Wide variety of Columbian ladies
Free app and Web version
THE BAD:
Language barrier
App unavailable yet
Summary
Colombianlady.com is a worldwide popular dating platform where you can find a potential spouse among 40,000 gorgeous Columbian ladies. The service has been around for 25 years and is considered reliable and safe for building lasting relationships.
Visit Site
How it works
First of all, you need to access the official website of Colombian Lady.
Every successful communication begins with registration. If you are a novice at registering on such websites, then the most important information you need to know is:
Specify your:
sex
name and surname
birth date and nationality
valid email and password
you must reach the age of majority
Registration is free and consists of a little form to fill in.
As soon as you've completed the registration, you will be sent a notification from the service on your email. Next, you must add vital details to your profile. Here you can specify your body parameters, relation experience as well as your hobbies and profession. Also, it is required that you clarify a few details about her in a short description which will allow the service to present the most suitable matches for you.
Note that the last three spaces allow you to enter no more than 500 characters, so be succinct. If you want to enter more details, then the last "Additional comments" section will come in handy.
The next stage is uploading a photo to your profile. You can press the "Choose file" button and upload any 200*200px photo you want from your desktop computer. Note that the uploaded file must not exceed 10MB. Additionally, the maximum number of photos allowed is 20.
After that, you need to go to "My info" where you can expand your registration information with your state or province and street address as well as your phone number. The last two are not obligatory.
Once you have done so, you choose specific countries and regions from which you want to receive letters. Likewise, you can disable some you do not want to receive letters from. Also, there is an option enabling you to make notifications instant or deny them completely.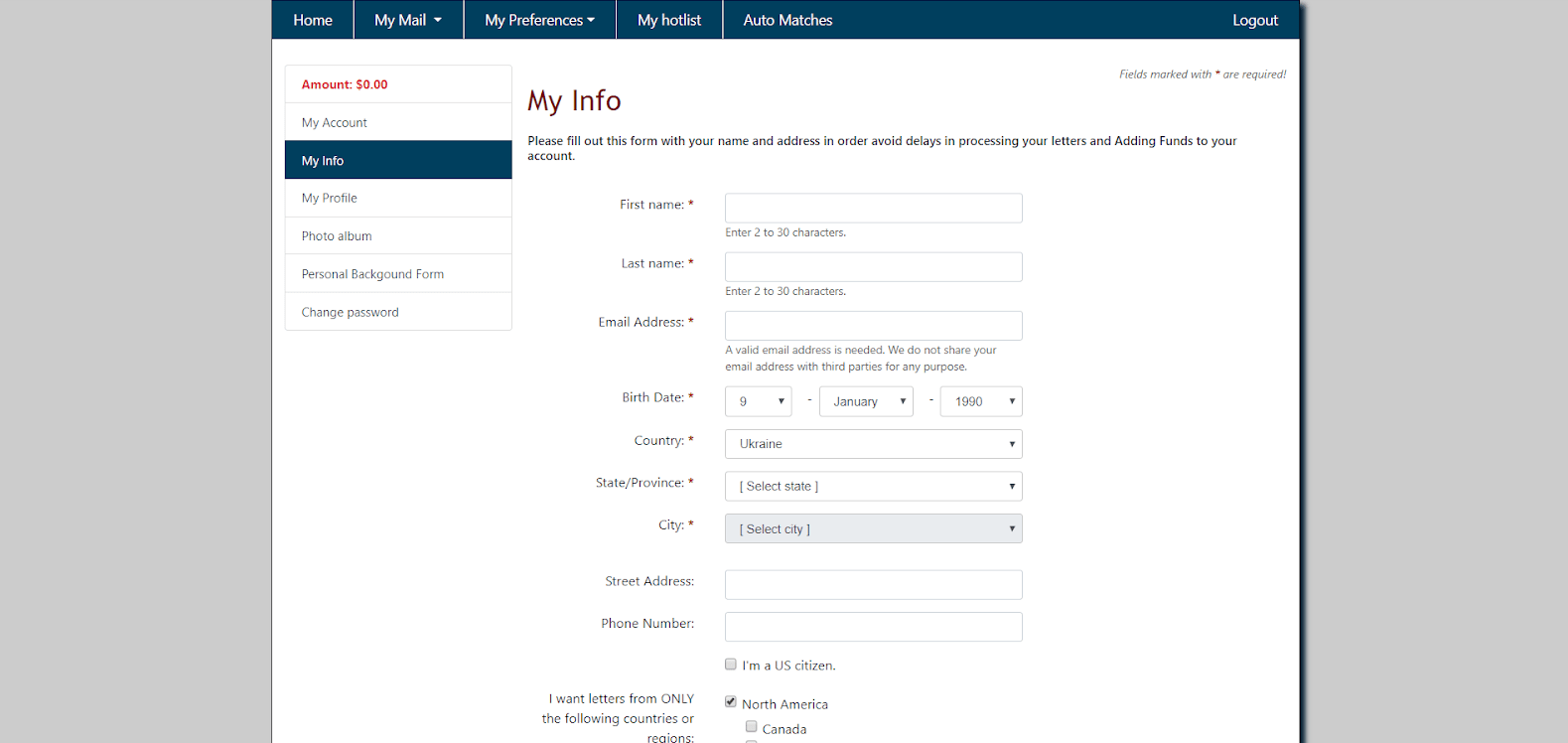 The next step is the final one on your way to registering your account and filling it with the required information. If you are a US citizen, then all fields marked with "*" are obligatory for you.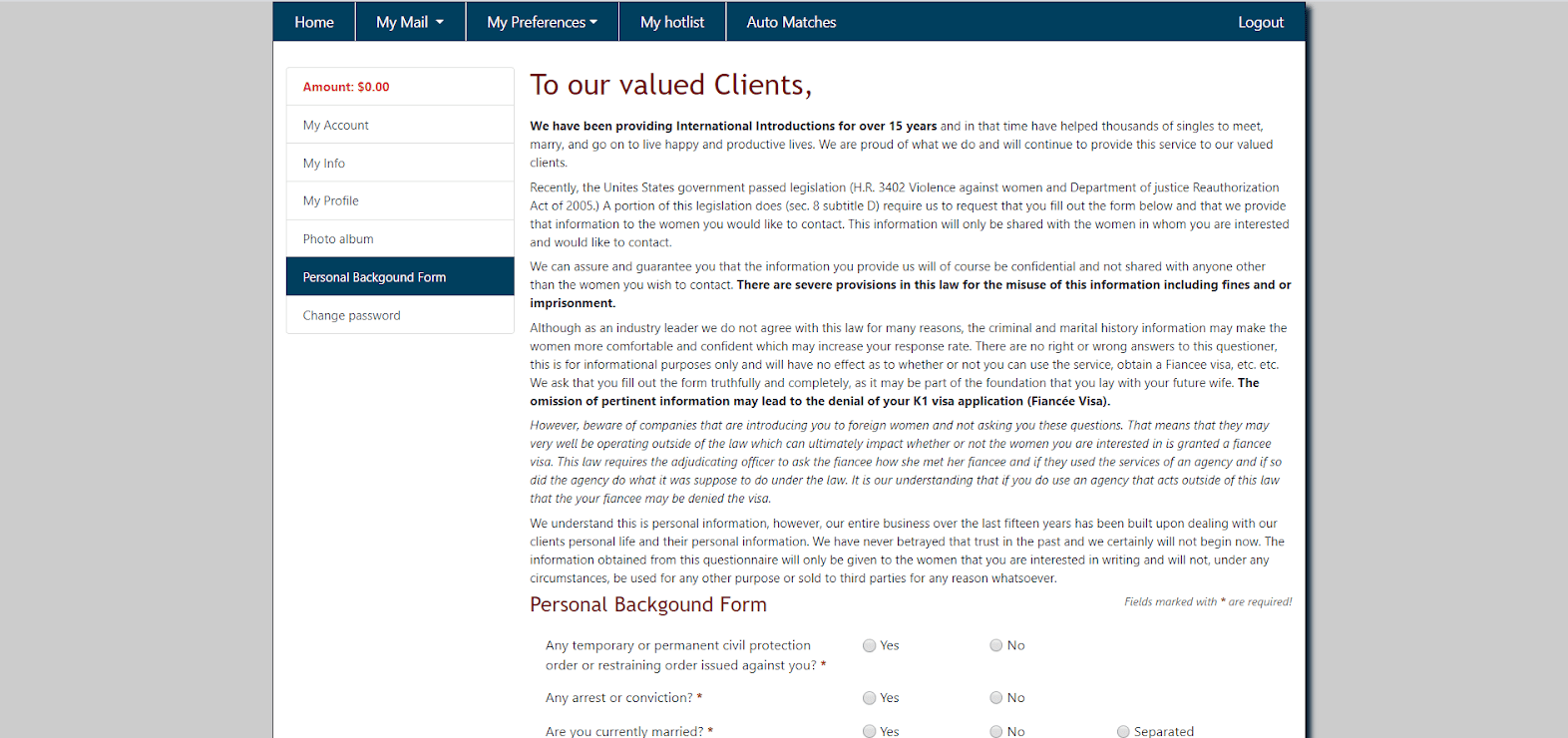 In case you have lost or forgotten your password, you can reset it by clicking on "Change password"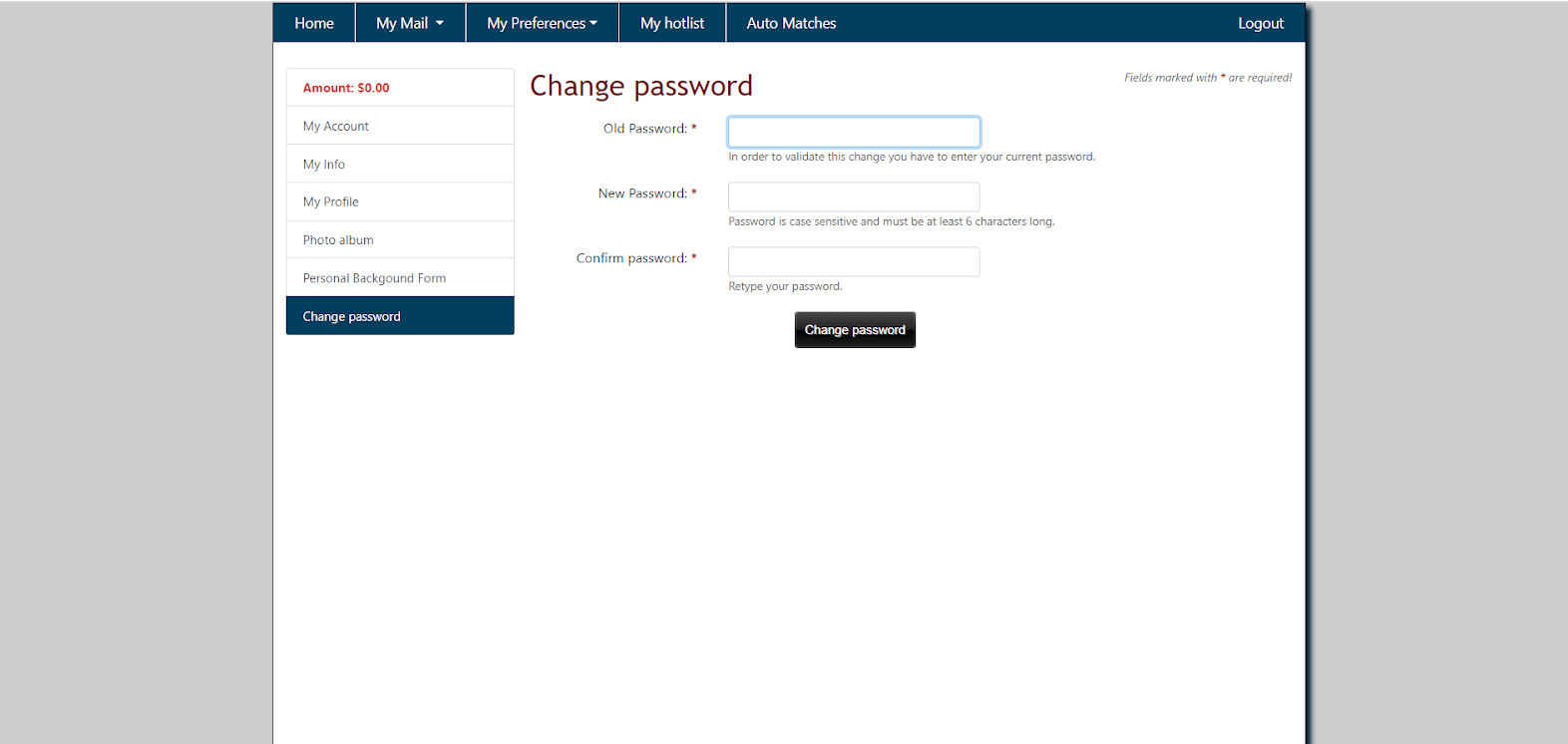 This is it. If all steps described above have been taken, then your registration process is completed. You are free to start communicating with a Colombian lady!
For this, you need to press the "Home" button and then move to quick search for Columbian ladies. Here you can simplify your search by entering country/region, her basic criteria as well as the range of her ID.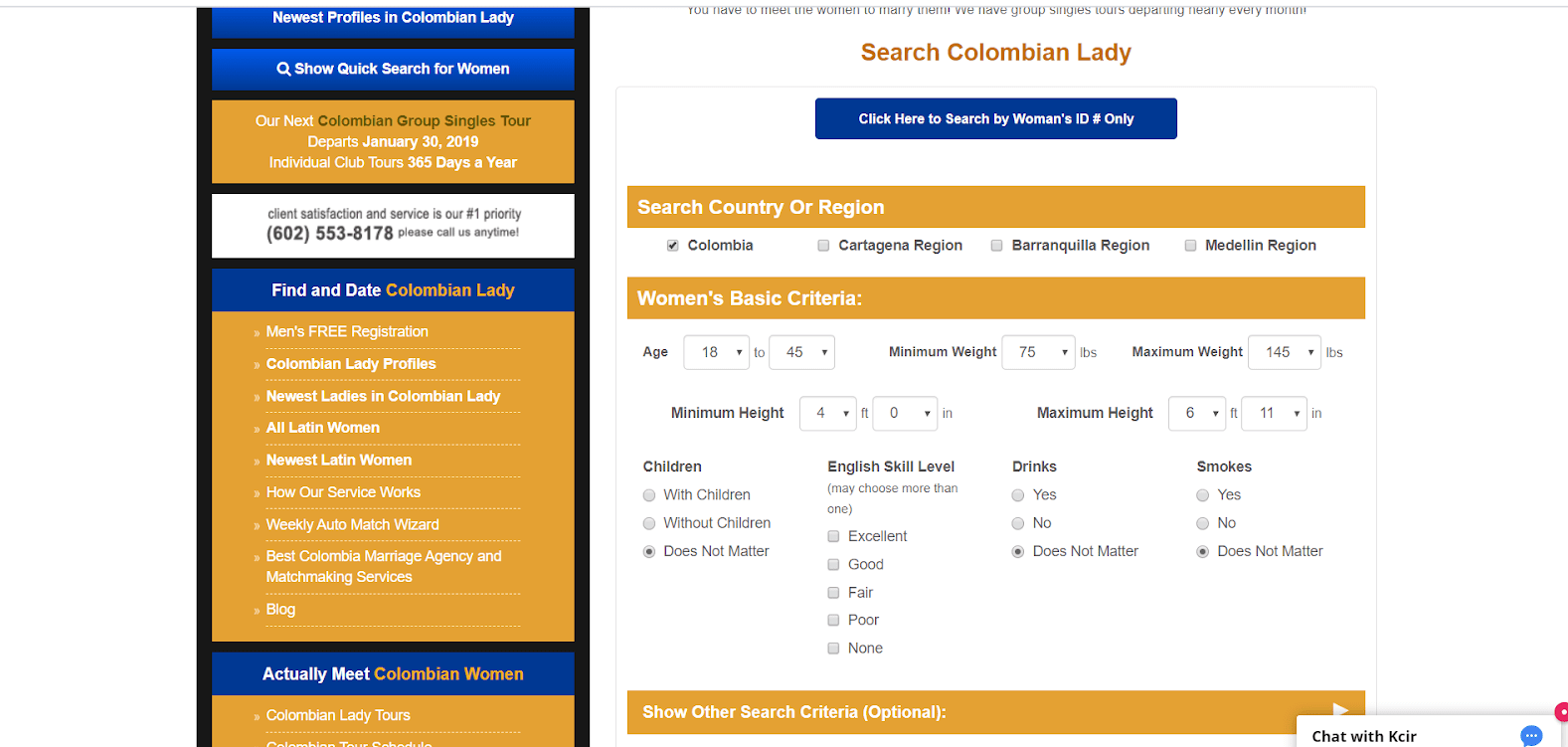 After that, go back to your account by hitting "Login". To make your interaction more enjoyable and memorable, you need to replenish your account. For this, go to "Add funds". There are four offers, each with an increasing discount. Choose the one which fits you the best and then determine the payment method.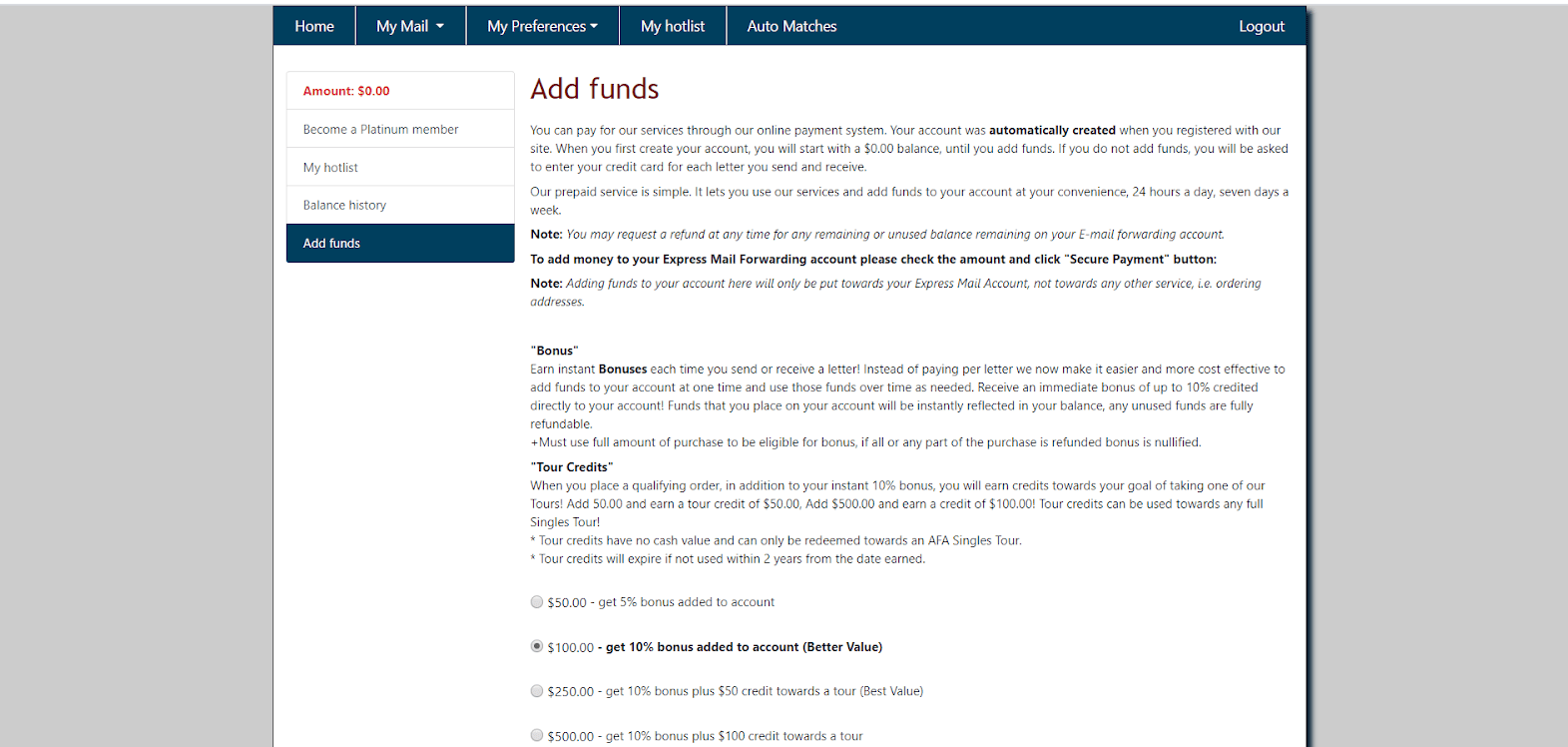 If you want additional features and services on the website, then go to "Become a Platinum member" and become familiar with the terms and conditions.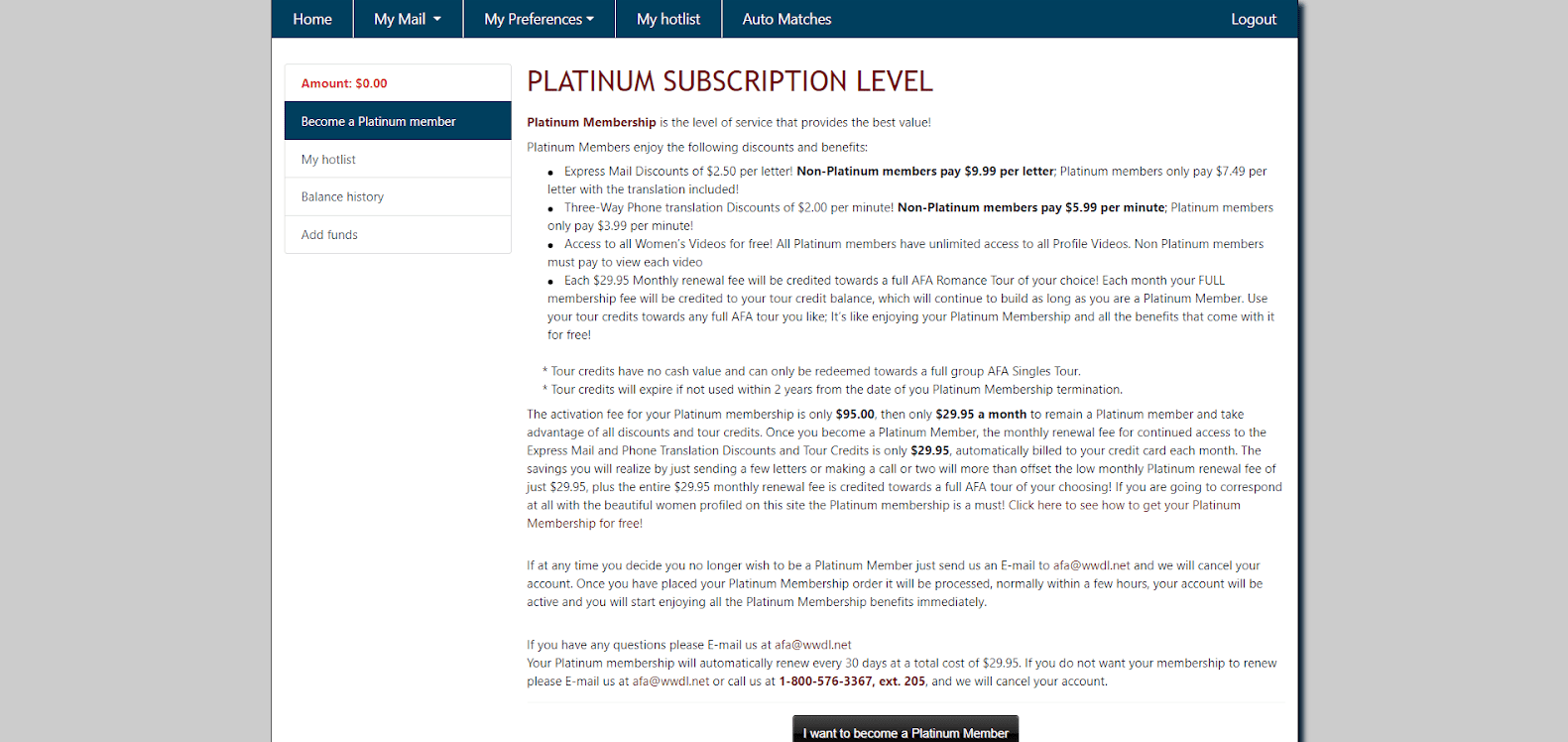 Audience
Colombianlady.com site embraces a wide audience throughout the entire world. It was established in 1998 and since then managed to gain trust and loyalty. Predominantly, the popularity of the service is the highest in the countries of North America such as the US and Canada, South America such as Chile and Brazil. In Europe, Columbian ladies are also extremely popular with men from Switzerland and France. The age of Columbian ladies on the website varies from 18 to 70 years old. But the biggest part of them is within the range of 18-30. Every day, men all across the world try their hand at chatting with over 40,000 women.
Pricing
To make colombian lady review more detailed, there is precise financial information below about colombianlady service.
The basic prices include $10 for an email and $6 for a one-minute live chat.
The activation fee for Platinum membership is only $95.00. After this payment, the following tariff is just $29.95 per month to maintain Platinum membership and enjoy numerous advantages.
Non-Platinum members pay $9.99 per letter whereas Platinum members only pay $7.49 per letter with the translation included!
Three-Way Phone translation Discounts of $2.00 per minute is provided: Non-Platinum members pay $5.99 per minute whereas Platinum members only pay $3.99 per minute!
Access to all Women's Videos for free is another feature of Premium membership. All Platinum members have unlimited access to all Profile Videos. Non-Platinum members must pay to view each video.
Safety
Colombianlady service provides a high level of security by tight cooperation with payment systems such as Visa and MasterCard. You can be sure all transactions are secure. Information requested when making purchases or entering contests such as email, name and phone number are stored by means of cutting-edge technologies. So there is no need to fret about personal data leakage. All described in "Privacy Policy" is guaranteed by the company. If any problems occur, contact the support.
FAQ
What is "Colombian Lady"?
Colombian lady is a worldwide dating platform with affiliate offices all across the world.
How much does "Colombian lady" cost?
$10 — per email
$6-one — a minute live chat
You can save a great deal by switching on a Platinum membership for $95.
Is "Colombian Lady" a Scam?
No, it is not. It has accurate privacy and pricing policies. It confirms girls' profiles only after their visit to one of the affiliate offices.
Who owns "Colombian Lady"?
Its owner is A Foreign Affair.
Does "Colombian Lady" have a mobile app?
So far, no. But in the nearest future, it can be released.
How do I delete my "Colombian Lady" account?
You need to contact the support and explain the reason. As soon as your account is cancelled, you will be sent a notification to your email.