THE GOOD:
Intuitive website design
Mobile application
THE BAD:
Expensive subscription
Limited target audience
Limited response rate
How it works
The 2RedBeans.com website is user-friendly. The interface is properly designed and easy to navigate. There are three different language options available to users: Mandarin, traditional Chinese, and English.
The first step in creating your profile is choosing your gender and preferred matches. Then, you have to enter an email or phone number or sign up with any of your social media accounts.
Creating a profile
After registration, you will receive a prompt to provide more information about yourself. This form is the second step in creating your profile. You can choose a username and a preferred password, or use the options generated automatically. You can then change your location if it differs from the automatically selected option in the drop-down list.
Uploading a photo
The next step is to upload an image of yourself. Default images are not available on 2RedBeans.com. You can only enjoy limited access to the free services on the dating platform if you don't have a profile picture. Also, only well-lighted, close-up images clearly showing your face are accepted.

When you finish uploading the photo, you will need to answer a few questions about yourself.
Then, you will write a short bio before finishing the initial profile creation procedure.
Editing your profile
After creating your profile, you will earn a few 2 Red Beans Diamonds. You can visit your profile to access the rest of the services eventually. Unfortunately, you will need to pay for a membership plan to access these features.
Matchmaking
You can connect with other 2 Red Beans members using the advanced search filters. Users are categorized based on their age, location, presence of photos, and other advanced search metrics.
However, one problem associated with matchmaking on 2 RedBeans is that you can find many fake profiles on the online platform. 2RedBeans reviews from users feature complaints about fraudulent activity, and our evaluation confirmed these concerns.
Audience
2RedBeans reviews show that this dating company has over a million registered singles worldwide. Over 18 000 active users visit the site weekly, and a majority of them are men. However, 2 RedBeans caters primarily to Chinese nationals (or users with Chinese roots). This ethnic specificity limits the engagement with other singles from different cultural backgrounds.
Also, the majority of 2RedBeans.com users are between 20 and 35 years old. You can find only a handful of users above 45 years on this dating site.
Pricing
The creation of an account on 2RedBeans is cost-free. But you need to become a 'VIP Member' to enjoy the rest of their services. The costs of different 2 RedBeans subscription plans are as follows:
A 1-month membership for 34.99 Euros per month.
A 6-month membership for 19.99 Euros per month (one-time fee of 119.94 Euros).
1-year membership for 15.99 Euros per month (one-time fee of 191.88 Euros).

VIP and standard users can also activate the 'Invisibility' feature for the following prices:
A 1-month plan for 19.99 Euros per month.
A 6-month plan for 15.99 Euros per month (one-time fee of 95.94 Euros).
1-year plan for 9.99 Euros per month (one-time fee of 119.88 Euros).

More so, 2RedBeans 'Diamonds' can be used to unlock chats and discover who visited your profile.
The prices of 2RedBeans.com Diamonds include:
250 diamonds for 9.99 Euros
600 diamonds for 19.99 Euros
1350 diamonds for 39.99 Euros (best deal)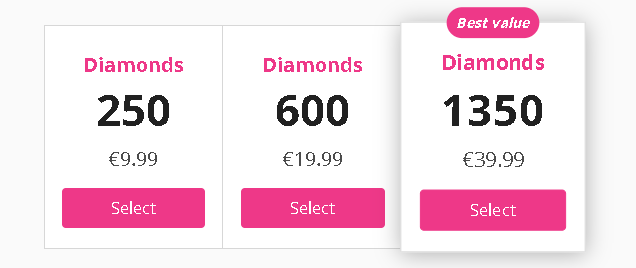 The payment for all the services above will give you access to the ENTIRE range of services, including:
Messaging
Receipts reading
Unlocked visitors
Profile admirers
Increased visibility
Stealth mode
Power filters
Event discounts
Prioritized recommendations
The only problem at this point lies in the high cost of accessing these services. At this price range, you can find a first-class dating site with extensive matchmaking possibilities.
How to Make Payments on 2RedBeans.com
2 Red Beans users can pay for the dating site's services with standard credit and debit cards (MasterCard, VISA, American Express, and Discover). Other available payment options include AliPay, WePay, and PayPal.
Safety
Despite the measures implemented by the 2RedBeans admins, fake profiles still plague the platform. The company needs to focus more resources on protecting its clients from scammers.
The available payment options are supported by secure portals and high-end encryptions. Also, communication between users runs on end-to-end encryption.
Conclusion
To recap, 2RedBeans has a decade of solid experience in the dating scene. However, the ethnic restriction on membership makes 2 RedBeans an unfavorable platform for non-Chinse singles. Moreover, the cost of membership and unlimited access is too expensive for the number of services they offer.
Ultimately, the presence of fake profiles is a significant issue 2RedBeans needs to address.
FAQ
What is 2RedBeans.com?
2RedBeans.com is a dating platform for people with Chinese roots. The dating site has over 10 years of experience in matching singles within China and the entire globe.
How much does 2RedBeans.com cost?
The creation of a profile is free, but the price of the 2RedBeans premium subscription starts from 34.99 Euros. Also, you can buy 2RedBeans diamonds for as low as 0.04 per diamond.
Is 2 RedBeans legit?
2 RedBeans looks legit and user-friendly, but some user profiles are shady. Also, as for such an expensive dating site, 2RedBeans.com has no reliable refund policy for non-credit card payments.
Who owns 2 Red Beans?
2 Red Beans is owned by Embrace Inc.
Does 2RedBeans have a mobile app?
Yes, 2RedBeans has a mobile app downloadable on iOS and Android devices.
How do I delete my 2 RedBeans account?
You can disable your account or delete it completely in profile settings. Disabled accounts can be retrieved when you log in again, but deleted ones cannot be restored.