THE GOOD:
quick registration process;
regular anti-scam checks by the site administrators;
THE BAD:
limited audience;
limited search options for free membership users;
no ability to pay with PayPal.
How it works?
Once you visit the YMeetMe website, you will be fascinated by the happy look of the couple on the homepage. The website seems quite nice except for the language. If you don't know Vietnamese, you will be wondering how to use YMeetMe.
To do that, go to your browser settings and choose the 'Languages' tab. There, you need to choose the 'Add languages' option and add the Vietnamese language to the list of already existing ones of your browser.
When it's done, switch on the translation of the websites that were set up in other languages.
After that, the YMeetMe homepage will look like this.
To start dating, you have to register your profile on YMeet.Me. You can see three buttons for that in the center of the screen, so you can choose either option. Login in with Facebook and Google account will require you only to enter your email and password to these accounts. Signing up with the mobile version is a perfect option too if you are about to visit the website only from your tablet or smartphone. 
We advise you to sign in with the Google account but use a different email address from one you use for your work. You will receive a lot of notifications from YMeet Me later, so we don't think you would like to load up your work email with them.
Once you are logged in, you will be offered to add your picture, sex, and birth date to your profile.      
When you are done, click on the white button at the bottom of the form. Further information that the platform will ask you to provide will be your height, place of work, city, and country you are currently living in, and the time you are wishing to get married. Other dating websites usually do not ask such questions, so please think a bit before replying. Your answer will affect the matching of profiles on YMeet.Me.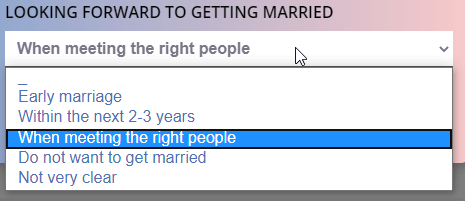 After finishing this quiz, click on the 'Start immediately' button to proceed. 
Your account will look like the following. Here, you can hide your age, add photos, edit your personal information to become more 'confident' towards the audience. You can also add your education details, interests, hobbies, and habits if you wish.
Switching between the tabs at the top of your profile will help you to see your matches, communicate with other customers, and see who liked you. For instance, when you fill out your profile data and upgrade your profile, you will appear in the search results of other people so they can like your profile. You will see them here.
Once you click on your profile icon at the top right corner, you will see the menu that you can use to search for other accounts. However, your filtering options on YMeet Me are limited until you upgrade your membership.
Audience 
YMeet Me does not post accurate information on the gender ratio of its audience. On its website, it only claims to host more than a million users from Vietnam and Japan. Also, you can only choose the opposite sex when indicating yours during the registration. It may be an issue for sexual minority representatives who want to find a partner. 
If we are to mention the quality of profiles on YMeetMe, we have to admit it's not very high. Many people refuse to provide detailed information about themselves here. Hence, the extended search tool is not very helpful for finding your matches. 
Pricing
To get extra features of YMeetMe and see the prices, you need to click on the 'Upgrade account' button in your account menu.   
Overall, profile upgrading is worth trying if you want to:
communicate with a lot of people simultaneously on chat;

appear at the top of the search results;

get 12 times of matching for free;

add multiple accounts to your favorites;

like people back;

enjoy extra filters of the search tool.
The current prices for different packages are now reduced. Hence, you will get: 
one week of premium access for 101 000 VND instead of 119 000 VND;

one month for 169 000 VND instead of 199 000 VND;

three months for 127 000 VND instead of 149 VND;

half a year of upgraded membership for 84 000 VND instead of 99 000 VND. 
All prices are stated in Vietnamese currency and are charged in it. 
The prices for coins are also reduced right now. You can buy 180 coins for 50 000 VND, 450 coins for 85 000 VND, 1200 coins for 170 000 VND, and 2000 for 255 000 VND. 
YMeetMe accepts payments only in Vietnamese currency and in certain payment methods that you can see before the checkout. As you can see, there is no internationally recognized payment method available.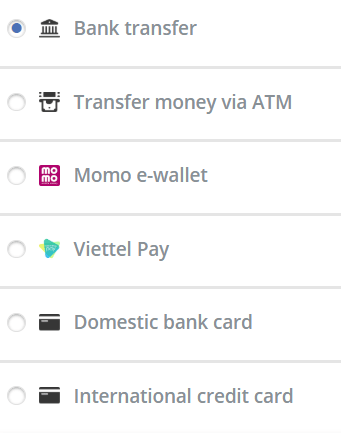 Safety 
The website administrators care much about the safety of their customers and their protection from fraudulent activities. Consequently, they request a lot of information to make sure you are a real person who wishes to date with them. To become a verified customer, you need to:
Prove your identity;

Prove that the phone number is yours;

Prove that your job and education are real. 
Such an approach may seem too picky, but it allows the YMeet Me staff to detect fake profiles quickly. 
FAQ 
What is YMeetMe?
It is an online dating platform for Vietnamese community from the country and for the diaspora. However, you are eligible for registration only if you reside in Japan or Vietnam.
How much does YMeetMe cost?
The prices vary depending on the length of the membership period and start at 101 000 VND for one week. 
Is YMeetMe Legit?
According to the results of our YMeetMe review, we can confirm it is a reliable service. The company does a lot to prevent fraudulent activities on the website. However, the number of real YMeetMe reviews on the web is limited. 
Who owns YMeetMe?
The owner of the site is Game Changer Ltd.
Does YMeetMe have a mobile app?
Yes, there is an official smartphone app available on Google Play and App Store. 
How do I delete my YMeetMe account?
To do that, find the 'System installation' option in your profile menu. Then click on the 'Delete account' button and choose the statement of why you'd like to leave the site. Then you need to click on the 'I agree to delete the account' button to finish the deletion.