THE GOOD:
Stylish design
100% free
Focused on Thai singles
THE BAD:
Not scam-free
No mobile app
Poor mobile version of the website
How it works
If you are into Thai women, Thai flirting dating site is the one you should pay attention to. Based in Thailand, it preserves its unique atmosphere and deals exclusively with the services related to the Thai culture, partnership, friendship, marriage, etc. That is why, Thai flirting might turn out to be a real bargain for those looking for exotic Thai wives online. Let's take a closer look at Thaiflirting website to learn how to use it and if it might be interesting for you.
Interface
Right upon entering Thaiflirting website, you get hit by the unbelievable beauty of the Thai girls whose images and romantic short videos are placed on the header of the website. The page itself is neat, without needless details which may sidetrack attention. The website palette features dark and white colors with the important emphasis made on bright orange. Thai flirting site can boast of optimization which makes it relatively comfortable to use by foreigners due to several international languages the website offers its services in.
In the top left corner, there is a form for quick search and Sign-Up button aiming to urge the chance-comers to become the Thai flirting members.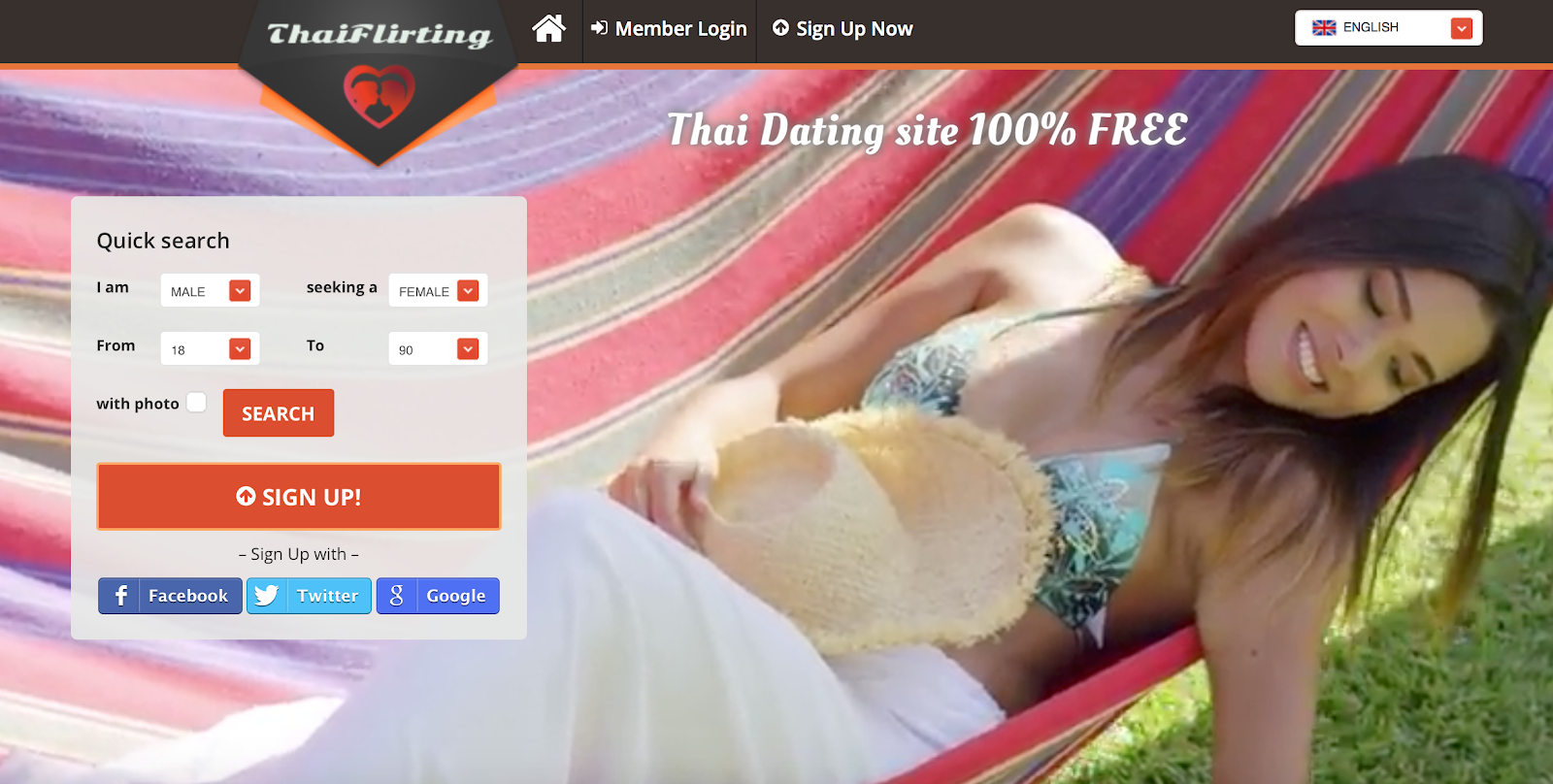 Registration
Registration process of Thaiflirting is somehow time-consuming. It features 7 steps you should overcome. The first step implies a form which should be completed with your personal information: nickname, name, email address, age, country, and who you are looking for. Upon completion, you should confirm you agree with all the terms and conditions of the website and proceed to the next steps.
All the other steps which involve uploading your avatar and several additional photos, providing your description and brief self-presentation, choosing from the numerous options of your hobbies, and sharing info about your perfect match criteria can be skipped and returned to later. However, note that the more information you provide and the more precise you are, the more accurate your search results appear to be.
Instead of signing up manually, Thai flirting offers its potential members to join it with the help of Facebook, Twitter or Google. These ways are a lot faster and usually seem to be more attractive.
Your account
Upon completion of all the registration procedures, it's high time to take a closer look at Thaiflirting homepage. Your account will consist of your profile photo, quick search form, and recommended people who can be a good match for you based on the data you've provided during the registration. The percentage of profile completion is visible right under the avatar. The more info you've shared, the more percentage you get. In the bottom right corner, there is information about the Thai flirting members who have visited your profile, those who have sent you a kiss, and a list of messages.
Search
Thaiflirting provides you with 2 search options: quick search with only several fields to complete, and advances search for the utmost search accuracy. In case you have some specific criteria for your soulmate, use the second option which is far more specific and allows using different search filters, such as Income, Marital Status, Style, Zodiac, Drinking and Smoking habits, etc.
Profiles
A great advantage of Thaiflirting dating platform is the visibility of the profiles of its members to all Internet users. This is not a very common feature for such types of websites, but in order to stir up the interest to the website, the administration of Thai flirting has taken such a step.
Each profile features quite uncluttered design with an avatar of the user in the top left corner and the basic info: name, age, sex, country, last activity, and preferences. The online status of the member is indicated by a green signal near his or her nickname. If the user has provided some additional info such as description, interests, mate preferences, it will be given below. The additional photos of the user, in case they have been uploaded, are placed in the bottom right corner.
Messaging
Thaiflirting website has an optimal list of communication means. You can either send a message to the user you liked or contact her/him via online chat, video chat, or by sending a kiss. Your favorite profiles can be saved to the Hot List to ensure quick access to the members you prefer to communicate with. If someone is bothering you, you can either block the user by adding him to the Black List or Report Abuse by indicating the reason for your complaint.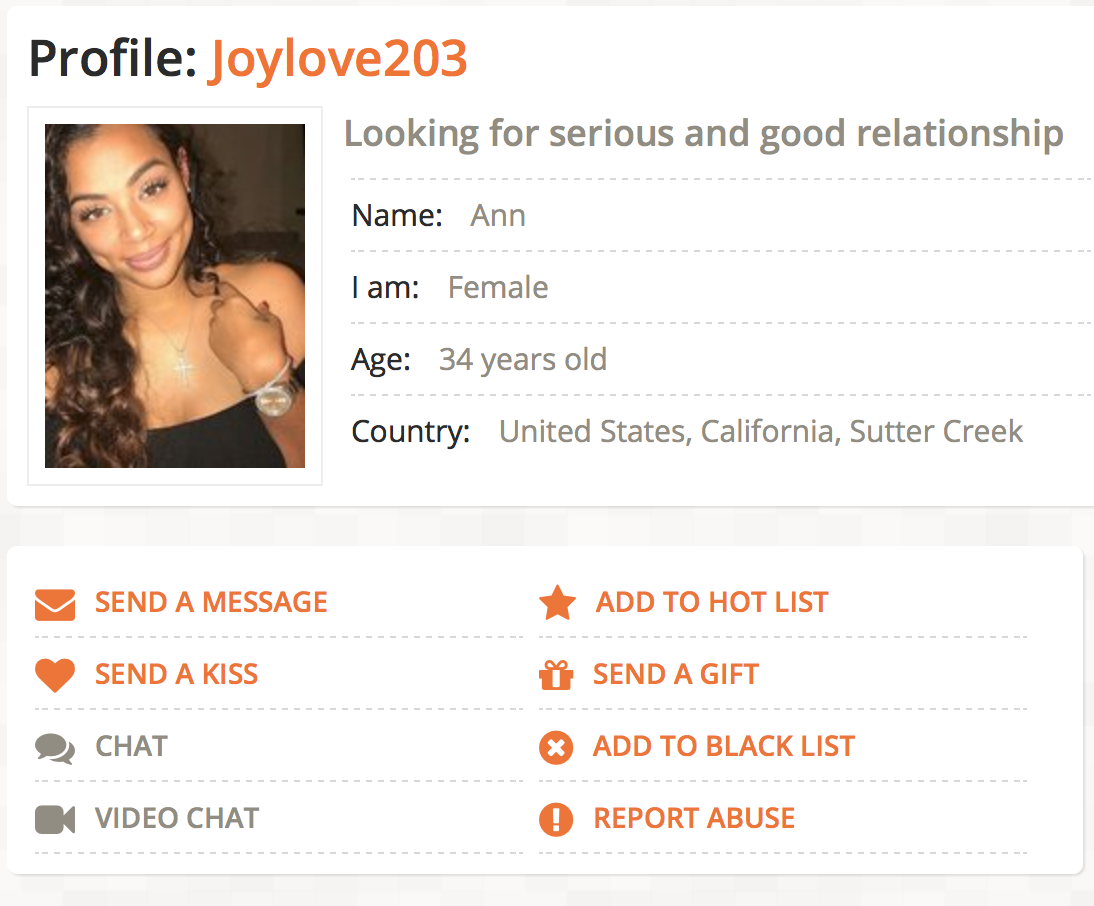 Audience
The Thaiflirting dating web page is a home for thousands of members from all corners of the world who are in search of their Thai love. Men from the Western European countries, for example, favor Thai flirting, as it focuses specifically on Thai brides who they find interesting to communicate with.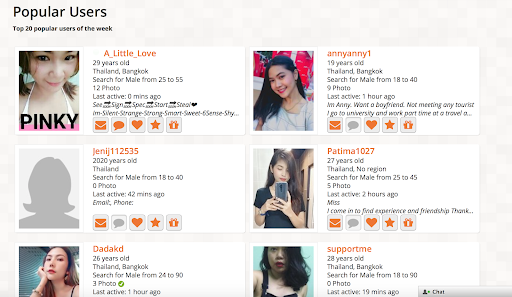 Pricing
A great advantage, and disadvantage of Thaiflirting at the sime time is its 100%-free policy. There are no tools or services that wouldn't be available for any Thai flirting user. You don't have to buy Premium membership to make your communication more comfortable, and there are no extra features to be purchased.
It seems like the website aims to give everybody a chance to find their mate absolutely for free. But in reality, this 'generosity' makes Thaiflirting dating platform not only one of the most popular among the websites featuring Thai mail order brides, but also the most unreliable one. Free services for all users are suspicious by default, for you normally need to pay money to find a decent partner.
Safety
Despite the free-to-use principles, Thaiflirting cannot be named totally scam-free. In accordance with some Thaiflirting reviews, the cases of abuse happen from time to time: fake profiles, shakedown, wrong gender users, etc. The website administration does its best to protect the members by verifying the profiles of the users, as well as their photos, however, any web page user should be aware of the responsibility he/she assumes while sharing his/her personal information online or choosing a person to communicate with.
FAQ
What is "Thaiflirting"?
Thaiflirting is one of the most popular dating websites helping thousands of people in the world to find their Thai love.
How much does "Thaiflirting" cost?
Thaiflirting is completely free to use starting from registration and ending with the communication means. Such 100% free policy makes it extremely attractive for people who are in a search of their Thai soulmate.
Is "Thaiflirting" a Scam?
Thaiflirting is a scam and not simultaneously: on the one side, you are always supported on your way to finding your love. On the other side, there are cases of inappropriate behavior. But you can always report them, and the customer support office will solve your issue.
Who owns "Thaiflirting"?
Thaiflirting is owned by the US-based company AimDate LLC.
Does "Thaiflirting" have a mobile app?
The website has neither Android nor iOS app. However, it owns an adapted mobile version. It is not as qualitative as a desktop one, but quite sutable in case you are in a strong need to use Thai flirting on the go.
How do I delete my "Thaiflirting" account?
In order to delete your Thaiflirting account, you should go to the Setting menu and choose the Privacy Setting option. After that, you will have 2 ways: you can either disable your profile in order not to be shown up in the search results but save your profile information, or you can terminate your membership which will imply the deletion of all your Thai flirting info for good.