THE GOOD:
A long history of the site
A large selection of women's profiles
Advanced search by given parameters
THE BAD:
Outdated and simplistic site design
Free services are minimal
The mobile app is not yet available
The site provides information in English, German, French, Spanish, and Russian. Over the years of its existence, this site has helped many people find their soul mates and even create happy families. However, there are surely more authoritative dating sites. Although Russian Women Personals is not the most popular or experienced dating service, this resource has certain benefits.
How Does It Work?
After it, you can upload your pictures, contact other users, and show them your appreciation in the form of emoticons, animated cards, as well as both virtual and real gifts. Also, you have an opportunity to record a video for your profile, which will help you stand out among other users.
You can find the right woman to chat with by searching specific criteria. These indicators include age, popularity, newly registered, verified profiles, and currently online. Advanced search is available using more specified criteria. Also, russian-women-personals.com provides an opportunity to block some participants from being able to contact you if you find them useless.
You can contact people on the site by sending them a smile, free message, or invitation to talk by phone or using video chat. You need to take into account that women are not always available online. So, the answer may take some time. Many of the registered women use the services of local partner agencies that manage their correspondence and assist them in translation. Reading messages from women whom you have already written will require purchasing credits on the site.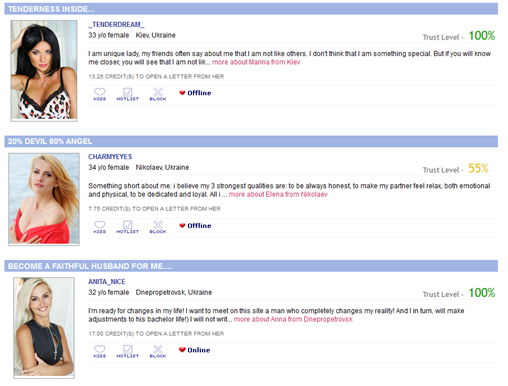 If you want to talk to a lady by phone or use a video conference, you need to contact the agency at least 24 hours before the scheduled time and tell who you want to talk to and at what time. It will take time to get in touch with a local agency or a woman herself. If a woman agrees, the administrator arranges a connection staying on the line. Before you start a telephone conversation or video chat, make sure that you have enough credits in your account.
The Russian women personals website can offer much more than ordinary conversations with single women who are looking for their prince charming. This resource can provide registered users with enjoyable and long-lasting relationships. When you try to view personal pictures of presented women, you need to enter a password in a particular window or request access. If access is confirmed, you can see photos of registered users. Vice versa, if someone wants to see your pictures, you can also provide access on request.
Often men believe they have to do something unusual for winning women's hearts. However, this is not always the case, since many women are interested in finding out your character traits and whether you are considerate and honest. All you have to do is demonstrate your serious intentions and remain credible. Technical support works 24/7 and responds to requests quickly. All in all, the service is continually adapted to the needs of customers so that online dating would be convenient and comfortable.
Audience
The dating services are provided exclusively for persons over 18 years of age. According to some Russian women personals reviews, most of the men registered on the site are from the USA, Canada, and Western Europe. Their age is often higher than 35 years. Traditionally, much younger women are from Russia, Belarus, Ukraine, Latvia, and Moldova.
Pricing
Dating services are free for women, but men have to buy credits for being able to read incoming emails. Men do not need to purchase a monthly or annual subscription for getting acquainted with the functionality of the website and the available choice of women for communication. Communication features are available only for a fee. So, men only pay for the services they really use.
The cost of credits depends on the total amount. So, when buying from 10 to 54 credits, you pay $2 for one credit. If you get from 55 to 99 credits, one credit will cost $1.09. If you purchase 100 credits or more, one credit will cost only $1.
Registered members can send direct messages at the fee of $0.5 credit for one email. The cost of reading a message from a woman can vary from 0.5 to 20 credits depending on her activity and popularity. A conversation by phone costs from 1 credit per minute and more, depending on whether a translation is required. A video chat of at least 10 minutes costs 2.5 credits per minute.
Safety
The site administration takes measures to protect your data and checks all newly registered accounts. However, cases of misappropriated use are possible. Therefore, it is necessary to observe basic safety rules, namely:
Do not share your personal information with anyone online;

Do not discuss your close relatives and friends;

Do not share too private pictures until you make sure that your interlocutor is credible;

Never send money to anyone unless you know that you can trust this person;

You can always ask the agency employees who manage the website to check any registered account.
FAQ
What Is Russian Women Personals?
The dating agency Russian Women Personals offers single men to meet women from Eastern Europe for friendship, love, and family creation. Its website organizes the initial contact between people, and then the agency can help with a personal meeting in Russia, Ukraine, and other countries.
How Much Does RussianWomenPersonals.com Cost?
Prices for communication services are indicated above. Men can purchase credits using bank cards. Following payment policy, this dating service guarantees the 100% money refund if you are not satisfied with the service provided. For that, contact the website administration within a month after the provision of services.  
Is Russian Women Personals Legit?
The website operates in accordance with its privacy policy and Regulation of the European Parliament from 2016 on the protection of individuals concerning their personal information processing and its exchange.
Who Owns RussianWomenPersonals?
Judging by the information found on the website, the Russian Women Personals resource belongs to Acmella Kft, which has the following address: Határ út 12, Újlengyel, 2724 Hungary. This company also has a Russian partnership agency called Natasha Club.
Does Russian Women Personals Have a Mobile App?
No. You cannot use this resource on your smartphone. Therefore, it will be challenging for you to receive real-time notifications and chat with girls while you are on the go.
How Do I Delete My Russian Women Personals Account?
If you want to remove your profile from the Russian Women Personals website, you need to notify technical support about your decision. Moreover, your profile can be suspended automatically and eventually be deleted after a particular time of inactivity.