THE GOOD:
The website is minimalistic and convenient for regular use
The main page and personal profiles of users are very informative
You can rate profiles from 1 to 5 stars
THE BAD:
The mobile application is not available
The main page is overloaded with unnecessary information
No video chat
Messaging is paid
How It Works: Step By Step Guide
You need to create your profile for free registration and the possibility to view profiles of other registered users. To do it, you only need to spend a few minutes using a laptop, tablet or smartphone with Internet access. Click "Register Now" and fill out all the spaces of the registration form. You will need to confirm that you are older than 18 years old, and that you agree with terms of use and privacy policy.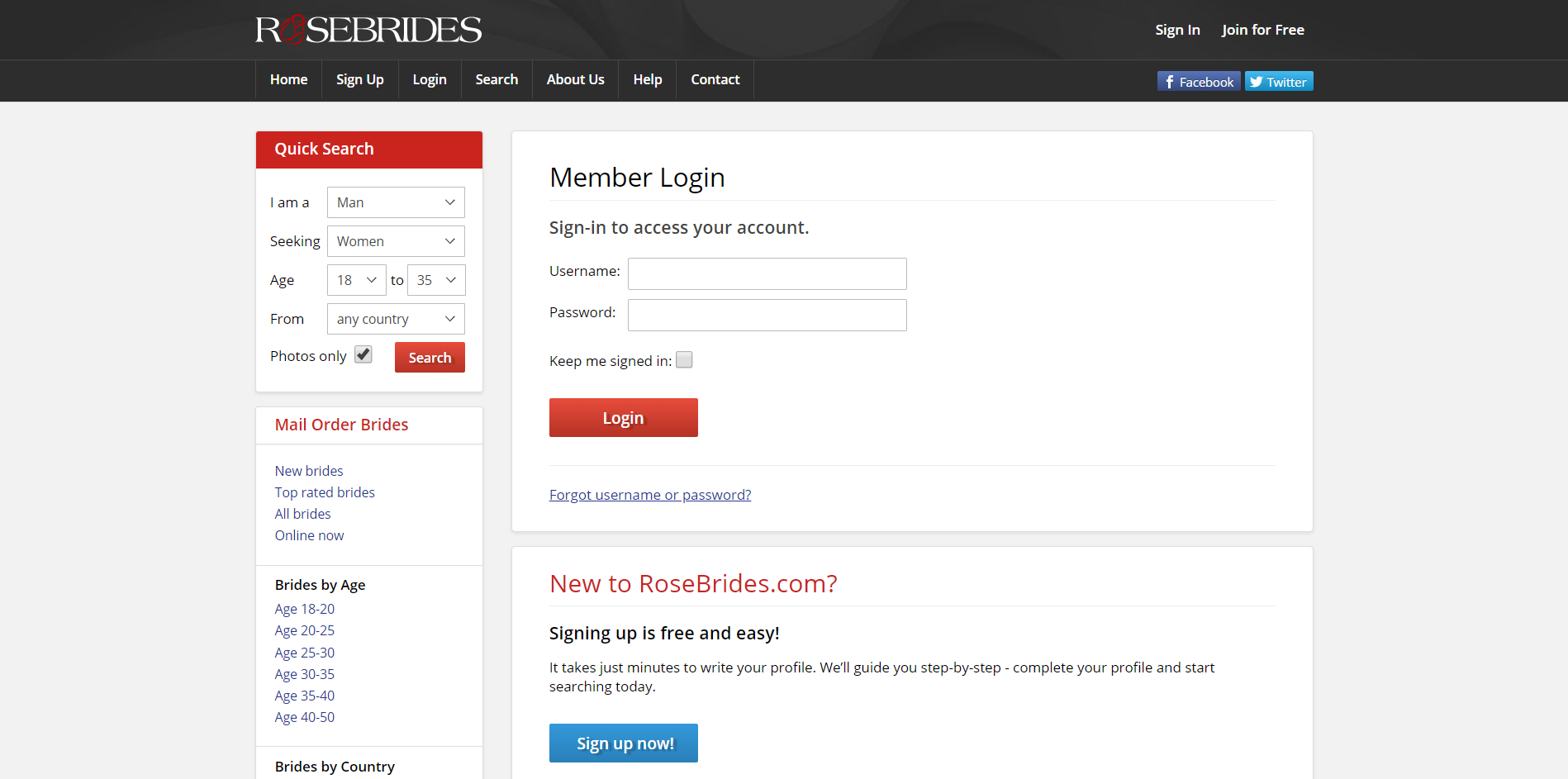 You need to provide some personal data, such as age, height, weight, ethnicity, education, occupation, preferred languages, and email. Describe yourself, as well as a woman you intend to meet. Also, you are invited to provide information on your hobbies and interests, such as your favorite food, music, sports, etc. Then, activate your account using the link sent to your email box and start using the website.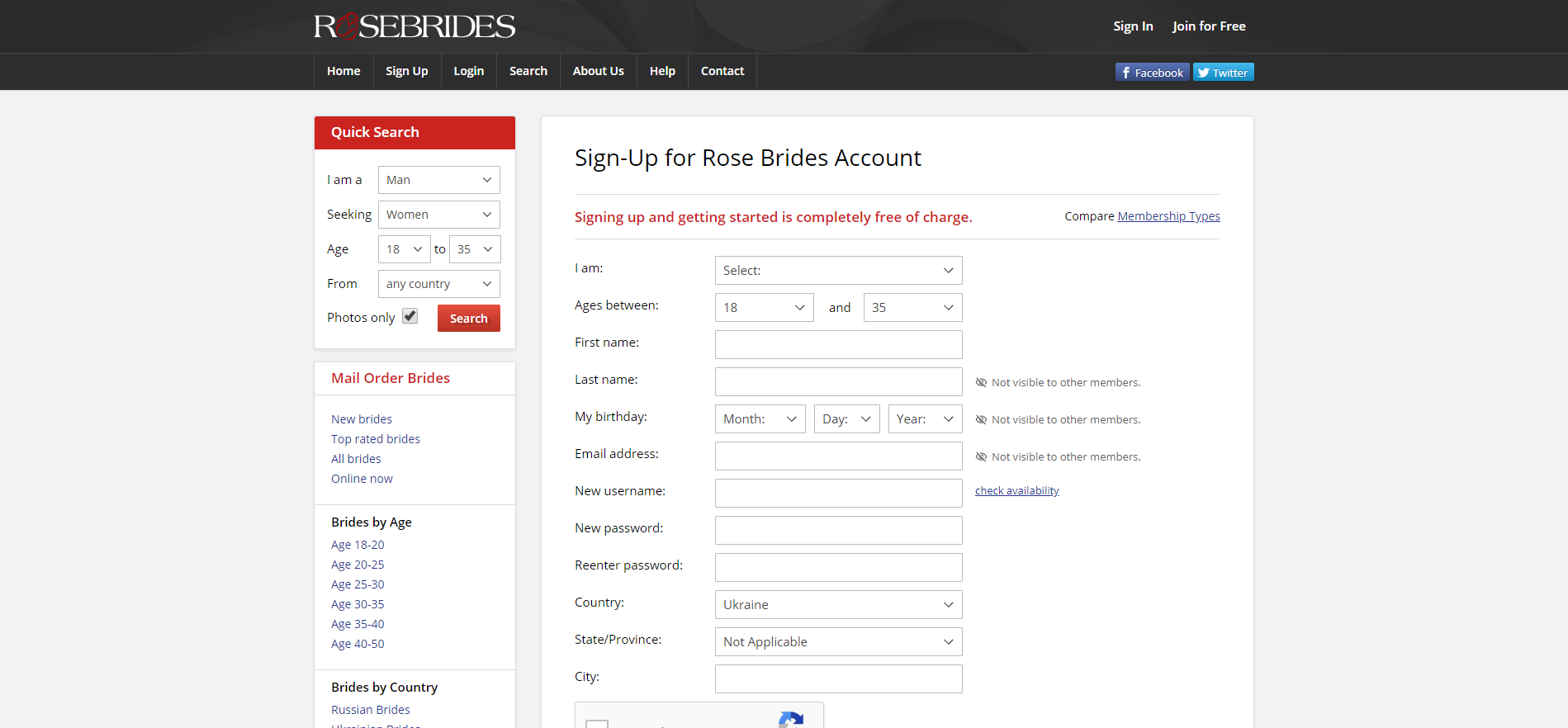 RoseBrides has two membership plans — free and premium. Although this website is paid, you can use many free and useful features, including advanced search. The site also provides a trial version for getting quickly acquainted with the main functions of this dating resource.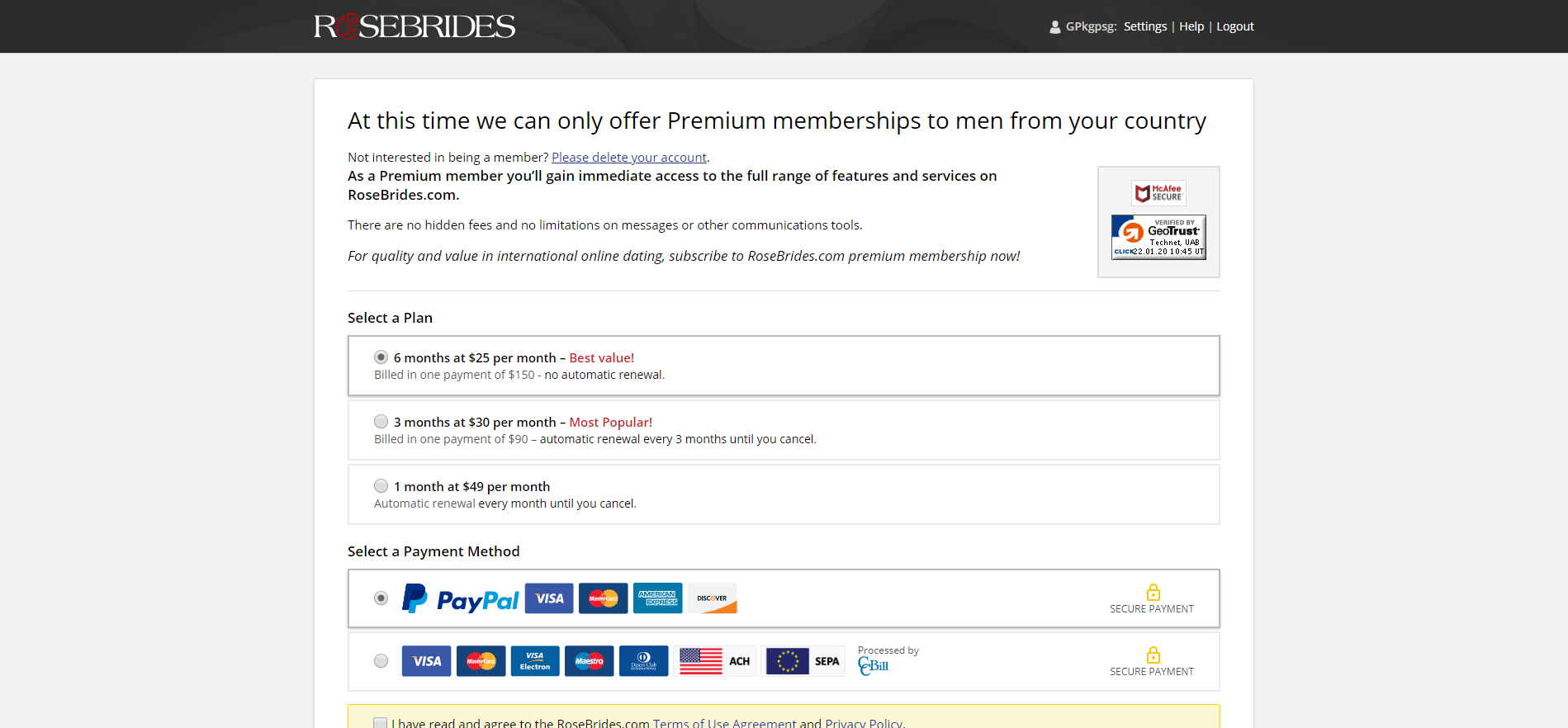 You can upload for free your pictures that meet the requirements of the site. On this dating resource, instant messaging is the primary means of communication. You can send a short greeting or a compliment that would indicate that you liked her profile on RoseBrides. It is a convenient way to start for those users who are not willing to spend too much time sending long letters to all the girls they like. You can also use various tools, such as cute smiles and animated pictures.
If the lady liked you as well, she would answer. So, when you find a girl that matches your search parameters, you will probably want to know her better. You may decide to send her a more extensive message. For that, you need to switch to the Premium paid service. At any time, you can sign up for a premium membership and get immediate access to all the functions of the website without any additional or hidden fees.
Audience
Many people, both men and women who are tired of loneliness, are looking for their ideal partner. As many Rose Brides reviews state, this dating service is ready to offer a wide selection of more than 100,000 profiles of women and men from more than 160 countries. Users of this website have various ages, preferences, religions, and speak different languages.
Men can live in any country in the world where there is access to the Internet. Women's audience is represented mainly by young women from Eastern Europe, but you can also meet beautiful Asians and Latinas here. Of course, they speak different languages. Although most girls speak English quite well, some of these young women only speak their mother tongue. For instance, some profiles are in Spanish. So, if you do not know this language, you are unlikely to understand who this girl really is.
Pricing
Women can use all the functions of the website for free, but men are limited by sending only an initial greeting to show interest with the free option. Any further communication requires Premium membership. The website has three Premium plans to choose from, and these fees may seem high. However, RoseBrides members usually spend less than users of other dating platforms, mainly due to the lack of hidden costs. In general, the company established reasonable prices.
In this Rose Brides review, we can state that the Premium paid option costs $49 for one month, $30 per month during 3-months membership, and $25 per month in case of 6-months use. If you select a multi-month membership, you will be billed every month for advanced payments. Memberships for one month or three months are extended up to 6 months if you do not cancel your participation.
Safety
RoseBrides.com is a legitimate website with security and privacy policies. You can read this information in the corresponding section on the main page. Also, you can find anti-fraud tips on the website to help you avoid any kind of fraudulence. The company takes care of each user and therefore, it offers only the best opportunities for communicating and finding the perfect partner.
A team of professional moderators uses the latest verification and screening methods so that users can enjoy the best and safest online dating experience. Members can also report and contact support if they need help or find a particular member suspicious. The website will never disclose your information, including pictures, videos, and private messages.
FAQ
What Is RoseBrides?
RoseBrides is an online dating service, which is very popular among men who are looking for Slavic, Asian or Latin American brides. The mission of RoseBrides.com is to help single people find the perfect match, as well as to open up ample opportunities for interaction among representatives of different nations and cultures.
How Much Does RoseBrides Cost?
RoseBrides.com is not entirely free of charge, but it is cheaper than most competitors. For having an opportunity to use all the functions, registered users pay a fixed fee from $25 to $49 a month with no hidden costs or restrictions. Even if it might seem that other online dating platforms offer lower prices, their members often pay more than the users who choose RoseBrides.
Is RoseBrides a Scam?
This platform is neither fraud nor scam. The money you paid for the premium option will only remain in your account. You can also use your money for buying various charming gifts or giving other things to selected women. However, there is always a danger of fraudulent activity as with other dating services. Therefore, reasonable precautions will never be redundant.
Who Owns RoseBrides?
The dating services are provided by Technet UAB Company from Lithuania. The Company director is Domas Juknevičius.
Does RoseBrides Have a Mobile App?
Unfortunately, the company does not offer any mobile application for smartphones. Only an adapted version for gadgets is provided at the moment.
How Do I Delete My RoseBrides Account?
You can delete your profile using an appropriate button on your page. This option removes your profile with all information, photos, and messages. If you do it, you cannot use your profile in the future. So, when you decide to return, you will have to register and fill out the profile anew.
You can also deactivate your account for the time being. Your membership will be suspended, and your profile will be hidden for as long as you need. If you want to make it active again, just click the button "Activate Account".