THE GOOD:
Narrow specialization on Slavic women originating from the states of the former USSR.
Quick registration
Good antivirus protection
THE BAD:
No subscription credits
Winter design makes everything written in green color invisible
A bit outdated design and functionality, compared to modern dating services
The site is for men only - there is no option for a woman to look for men here
How it works
The overall functionality of the Romance Compass dating site does not leave much to be desired but is not very extravagant and unique. Without registration, a user can read the blog, search for women, and observe their profiles. On the site, there are some photos and videos that can be viewed only by a registered user. To register, you need to go to the main page of the site and find a small form situated in the left part of the screen. Fill in your full name, email address, and a password for your account. Then, hit the "Join now" button. Otherwise, you can log in using your Facebook page. Unfortunately, it does not mean that your Facebook profile will be transferred to the site – you'll need to fill in the personal information by yourself.
As soon as you get registered, you need to edit your account. For this, click on the button "My account" which is on the main page.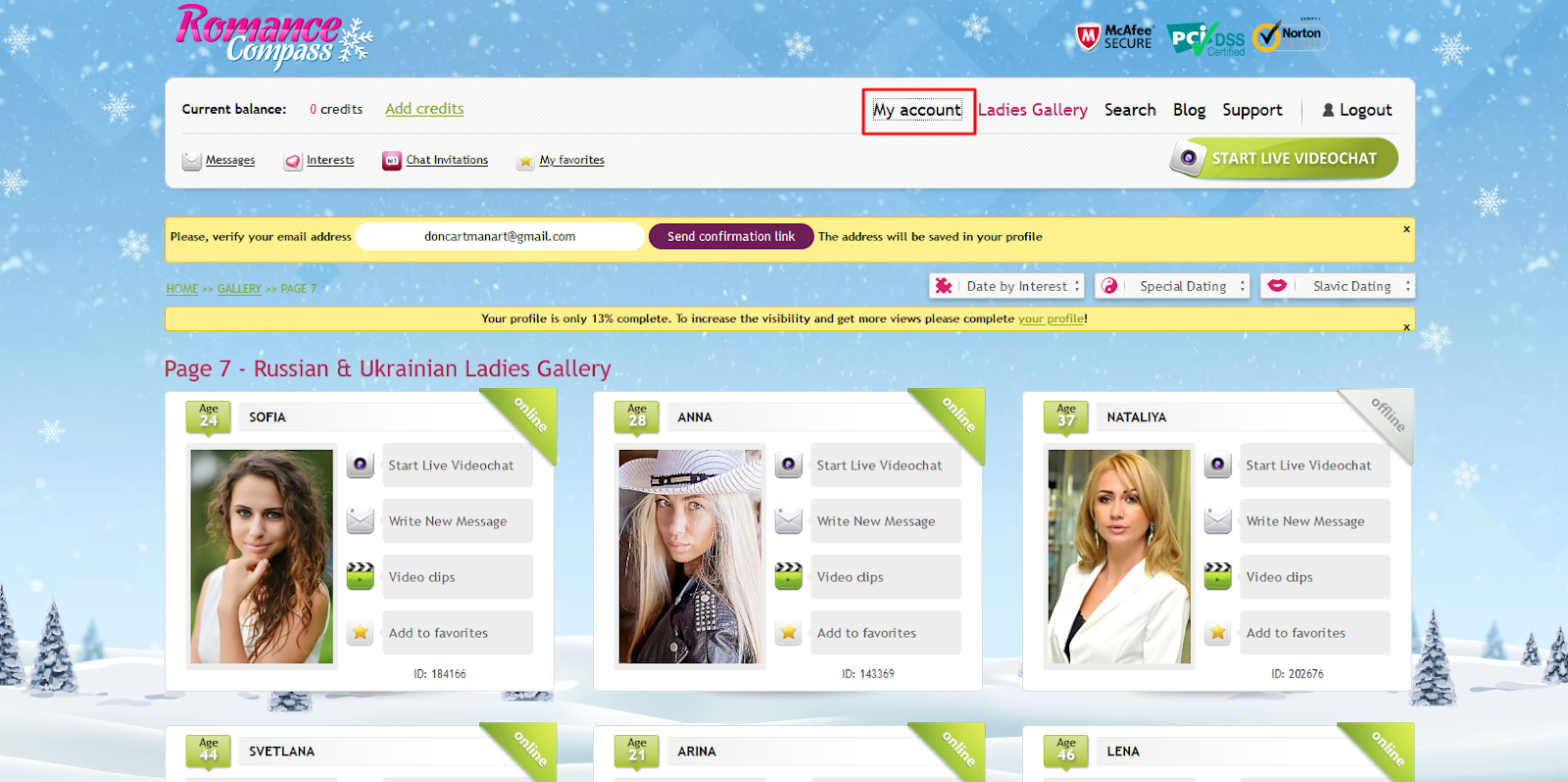 Here, you can edit your account or start searching for women.
The account implies giving information about your physical parameters and your preferences concerning women. If you need to add some photos, you need to find a tab "Manage Photos".
In general, every Romance Compass review describes registration as a quick and convenient activity.
Audience
The audience of the website consists of different girls from Russia and Ukraine. The content of the site lets us understand that it is the primary audience of this service. As for men, there is no definite advantage of any particular state. However, the prices listed in Euros indicate that this service is popular among men from the European countries.
A man can meet different girls when it comes to age. On average, the age of a girl here is about 28-30 years. However, a bug number of mature women (38-42 y.o.) is present here as well.
Pricing
The website uses an old system of credits. You buy a number of credits, so-called website currency, and buy the services for them. Different services will cost you a different number of credits. You will pay one credit for one minute of talk in every kind of a live chat: message chat, video call, or a broadcast. It is an advantage, as on the other sites, video calls might be more expensive.
Sending a letter to a girl will cost you seven credits. You can buy a video presentation made by a girl for 20 credits. And, you can disclose the personal information and contact data of a girl for 25 credits. Unfortunately, you can buy only a fixed number of credits. It varies from 20 to 750. The maximum price you can pay is 300 Euros, which equals about $335. The minimal cost is 12 Euros, it equals $13.4. Right now, the site has got a discount for 120 credits – 60 Euros ($67). Our RomanceCompass.com review treats these prices to be fair and low enough, compared to other dating services, but it is disappointing that there are no subscription options.
Safety
The site seems to be safe enough to use it. It does not have much essential information a novice love seeker would appreciate. So, if you are new to this sphere, find out the rules of online dating somewhere else. On the other hand, experienced users will appreciate the number of antivirus software. The website uses three billing gateways: 2BuySafe, Verotel, and DalPay. Unfortunately, it does not solve the issues with billing, sending a user to the support of these companies. The website does not have instant support services. A user can only write an email and wait for the reply. Fortunately, they do not make you wait for too long.
FAQ
What is Romance Compass?
Romance Compass is a dating service for men from around the world. It helps them to find brides from Ukraine, Russia, and other states (to a smaller extent).
How much does Romance Compass cost?
The prices for the credits vary from 12 to 299 Euros ($13.4-$334 respectively).
Is Romance Compass a Scam?
RomanceCompass does not seem to be a scam website. It has good protection. It is well-known and pretty old. Though, you cannot guarantee from the first sight that a woman you are talking with has a verified ID. The site does not provide any tips concerning safe communication. It has only terms of use and privacy policy.
Who owns Romance Compass?
The Romance Compass website is run by a company Sono RC LP that is registered in Edinburgh, Scotland.
Does Romance Compass have a mobile app?
The website does not have a mobile application. However, it can be used from mobile devices. It is optimized for mobile phone and tablet browsers.
How do I delete my Romance Compass account?
You need to write support team an email with a request to delete your account. Otherwise, you can erase all the information from it and block the notifications from the site.