THE GOOD:
15,000+ active registered members and even more regular visitors without accounts
Support phone number
Advanced search
THE BAD:
Just an awfully outdated design
Quite a lot of dead profiles
Some accounts seem to be scams
How It Works?
First of all, you don't need to get registered on LatinEuro website if you want just to have a look at the female profiles and prices. Second of all – you should sign up if you want to make contacts with Latin girls on this platform.
When you open the main page of the site, you see quite a… Well, a really bad design. Still, it has comprehensible enough structure to get what button you should click on to get registered. You can see the Search and can use it to have a look at the database and seek a partner by location.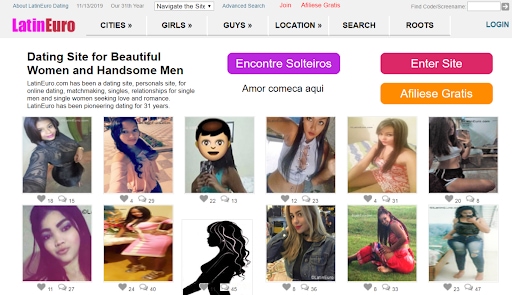 To sign in, press the "Enter Site" button and enter some personal information in the corresponding text boxes. You can share your name, gender, birthdate, location, phone, and tell something about yourself in the "Bio" section. You can choose your nickname as well – the site will use it as your name and your real name will not be shown to the other members.
After filling the registration form and confirming your email, you will get the possibility to do what you've come to the site for: make contacts. Browse the site and read the information about the users you like carefully: you may be a victim of a scam if you neglect your personal safety. For example, if you see that a girl writes in her Bio that she is a model, and she looks like a person who doesn't watch her figure, it is suspicious.
As for the Latin Euro communication ways, the site allows people to make contacts via all the possible apps and social networks, but only after spending some money. You will be able to call girls, write them in WhatsApp, send them emails, use translation service if your interlocutor does not speak English, and so on.
Audience
There are more than 15,000 registered members, and the majority of them are women from Latin America, but there are still plenty of people from all around the globe. Almost all the accounts have photos, and it seems like they are real. However, there are profiles that were created a decade ago, and the photo gallery hasn't been updated since then. You should talk to such people at your own risk.
Besides, the site offers a unique and a bit weird way to make contacts: you can literally "purchase" the LatinEuro girls – well, it will be more correct to say that you purchase the possibility to talk to them. There are buttons like "Add to Cart" and "Order", and it sounds hilarious when it comes to communication with real people.
Pricing
Latin Euro dating service has credit system. It means that you will not have to pay for a subscription: you will be able to spend your hard-earned money only to the services that you use. For example, during communication, the making-contact services constitute the main expense part of this site. As for the prices, here they are:
To send a message – $5.00 for each;
10 Contacts – $25 ($2.50/contact);
45 Contacts – $45 ($1.00/contact);
60 Contacts – $69 ($1.15/contact);
200 Contacts – $99 ($0.50/contact).
To make any purchases, you should be signed in. Payment methods include Credit Card, Debit Card, PayPal, Check, Money Order, Western Union, and cash.
Safety
Among safety measures, there are only two things: SecurityMetrics certificate (which is not the most popular certificate that protects people's data and transactions) and the possibility to browse the site anonymously – till the moment you want to talk to a lady (this action demands registration, but you still can create a fake email and name).
The site's administration has created a page named "Safety Dating". Check it out if you want to protect yourself during communication with Latin beauties! And we highly recommend registering, as this is the only way to keep your reputation and identity safe because it will be locked by your unique password.
FAQ
What is LatinEuro?
It is an online dating platform that offers an interesting system of communication with Latin girls – you can literally "order" a dialog with a woman you like. However, don't expect that she will definitely answer your interest. You purchase only the possibility to talk to her.
How much does LatinEuro cost?
The prices are the following:
To send a message costs $5.00 for each;
10 Contacts – $25 ($2.50 per contact);
45 Contacts – $45 ($1.00 per contact);
60 Contacts – $69 ($1.15 per contact);
200 Contacts – $99 ($0.50 per contact).
Is LatinEuro legit?
This platform does not hide its database, range of services, and prices, so it seems to be legit. But, there are still some LatinEuro reviews whose authors are really angry about the experience they had on this platform.
Who owns LatinEuro?
This site belongs to LatinEuro Introductions, Inc. It was founded in 1996, but it hasn't changed its design since then (which is its biggest disadvantage).
Does LatinEuro have a mobile app?
This site does not offer any mobile application, but you still can open the site and enjoy its services using your smartphone and your favorite browser.
How do I delete my LatinEuro account?
You cannot actually delete the profile on your own. But, you can contact the Support team and ask them to do it for you, and they will do it asap.