THE GOOD:
Safe and secure payments
Affordable subscription costs
Available mobile application
THE BAD:
Poorly designed mobile app
Payable chatting
Limited communication options
Fake users
How it Works?
The official website of Hong Kong Cupid is modern, informative, and user-friendly. The site's homepage allows you to get familiar with the service features and proceed to the registration. Similar to other dating platforms by Cupid Media, this one does not allow you to browse profiles before setting an account.
Compared to other dating agencies in the industry, the sign-up process on HongKongCupid is simple and requires a few steps:
Go to HongKongCupid.com and press the View Singles Now button. It will open the registration menu.
2. Fill in the required information in the sign-up form. You can get familiar with the terms of use and website policies at this point. If you agree to the service's rules, make sure you place a tick next to the terms and privacy policies. You can also join the platform via your Facebook account. Press View Singles Now once you finish with this menu.
3. Now you can proceed to your control panel. The registration is complete.
Hong Kong Cupid Dashboard
You will get suggestions for photos here. Profiles featuring pictures get more attention. You can skip it, and upload images later.
The control panel is pretty intuitive, with the main sections placed in the upper bar. You can get to your profile and account settings and check your dating statistics on the right side of the bar.
From there, you can go to the Search section to browse more profiles. Your matches are displayed in the center of the page. Scroll down to see more users.
Also, you can use a quick website search below the upper bar. Advanced Search, however, features a lot more criteria.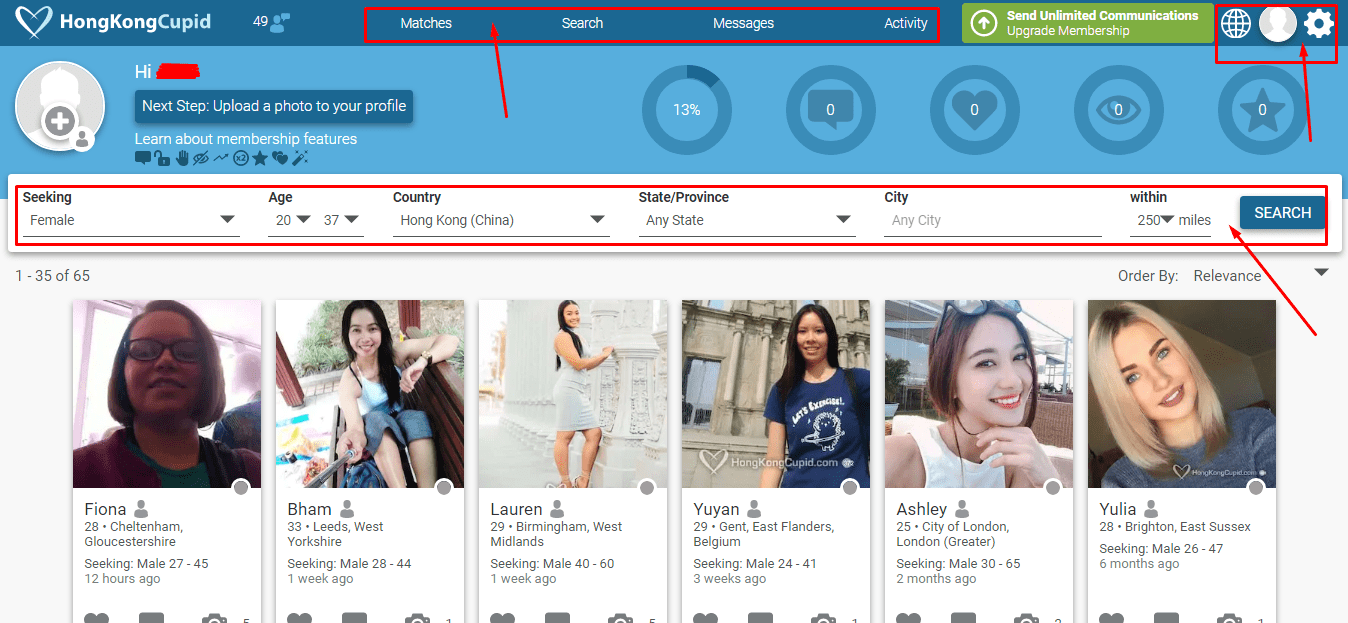 Using Advanced Website Search
Go to the Search section in the upper bar to enable advanced search settings.
Here you can adjust the following criteria:
Gender
Age
Activity
Photo/no photo
Location (you can set the country, state, city, and distance of 50-500 miles from you)
Type of relationship (whether it is friendship, a short-term romance or a long-lasting relationship)
Appearance (lots of criteria, from height and ethnicity to body mass index)
Lifestyle (from habits such as drinking and smoking to occupation)
Cultural values and background (from education to religion)
As you see, the number of search criteria is substantial. You can theoretically meet a person that will ideally match your sweetest dreams.
Completing your Profile
A detailed profile with multiple photos is essential for starting a relationship online. Let us check what Hong Kong Cupid offers you when it comes to self-representation.
To get attention and visibility on the platform, locate the profile management section on the upper right side, and proceed to Edit Profile.
The profile editing section consists of the following subsections:
Your Basics. Here you can update your location. To change the rest of the info in this section, you have to address the support team.
Your Appearance. You can specify your physical features by completing the corresponding survey.
Your Lifestyle. Here you can include the information regarding your marital status, occupation, habits, etc.
Your Background. This section allows you to specify your education, nationality, languages, etc.
Self-description. You can write something about yourself and include your dating preferences here.
Once you finish with these subsections, scroll up and proceed to Match, Interest, Personality, and Photos.
Match
The Match section duplicates advanced search settings. However, it is crucial since adjusting these criteria will enable accurate website recommendations, while Advanced Search allows you to browse profiles that match specific criteria.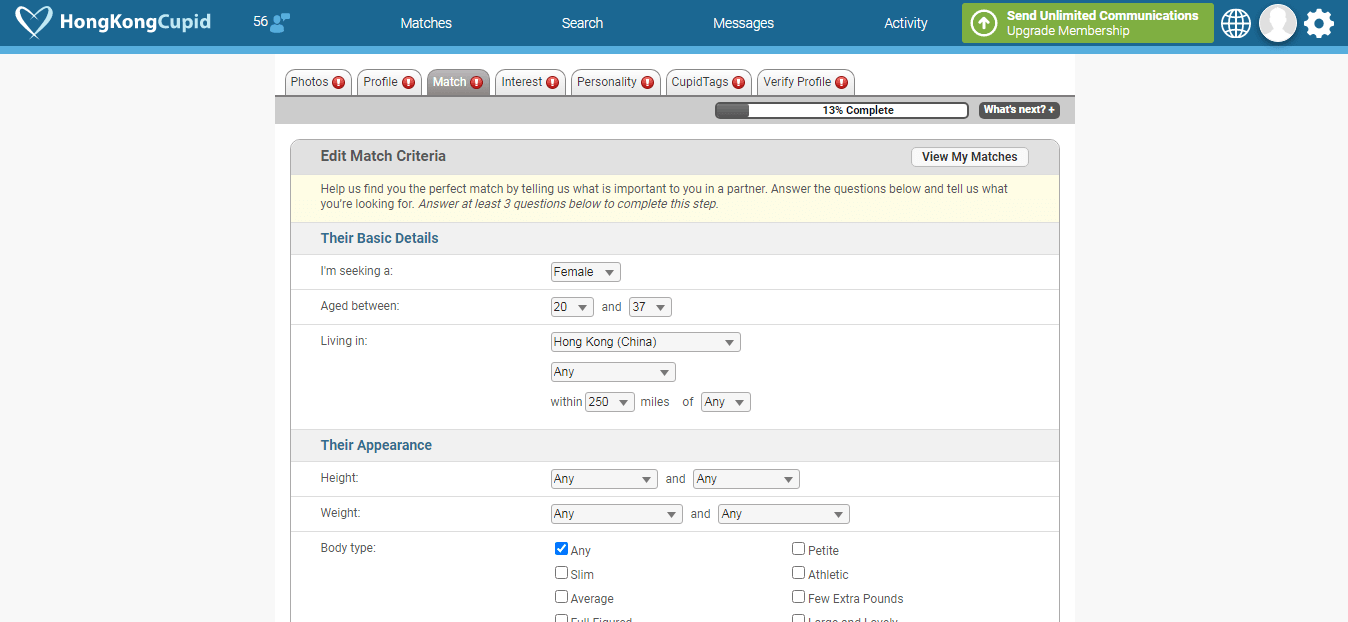 Personality
You can answer the questions about your personal qualities. There are 12 questions in total.
Interest
Here you can complete a questionnaire on your pastime, favorite meals, sports, etc.
Photos
The Photos section allows you to upload pictures on your profile. Each image goes through moderation, so you have to follow the rules displayed in Photo Guidelines.
Cupid Tags
Cupid Tags is a Cupid Media's brand feature that allows you to attach keywords to your profile. Go to Cupid Tags in your profile management section. Then, select keywords that match your personality and press the Add button. You can also follow the Search Cupid Tags link to add keywords more conveniently.
Communication Options at Hong Kong Cupid
This platform will not suit you if you are used to video chatting, live streams, or webcam shows. It does not feature any communication options except for chatting. The chat window is simplistic and does not support video messages, voice recordings, or fancy stickers either.
At the same time, you can craft Cupid Introduction. It lets you send a pre-written introductory message to other users on the site.
Other available actions include:
Showing interest
Adding users to favorites
Blocking users
Reporting abuse
Mobile Application
You can benefit from online dating on the go with the help of the standalone HKCupid mobile application. It has as many functions as the desktop version of the website. On the other hand, the app is poorly designed. You may experience performance issues. Textual information sometimes overlays imagery, which makes the overall experience unpleasant. More than 170 Hong Kong Cupid reviews on Google Play rated the app as 3.7 out of 5.
Audience
Most users are from Mainland China and Hong Kong. Therefore, HKCupid is a niche platform. You will be able to select from around a thousand profiles with each website search round. It is pretty enough to find a partner. Moreover, hundreds of people register on the website daily. The audience is quite friendly and responsive. Chinese are eager to meet foreigners there.
Quality of Dating Profiles
Around 90% of the profiles contain photos. When it comes to profile surveys and descriptions, the situation is different though. Many people leave profile editing sections incomplete for various reasons. Still, you will often meet users who are comfortable with detailed self-descriptions.
Pricing
You can register, manage your account, and browse users without any charge. Communication is paid, however, and requires a premium membership. To interact with other users, you have to purchase the subscription from the account management section. Gold and Platinum subscriptions are available. Check the prices for the Gold membership below:
£24.99 for one month
£49.99 for three months
£99.99 for twelve months
The price list for Platinum subscription is the following:
£29.99 for one month
£59.98 for three months
£119.98 for twelve months
The most beneficial membership is Platinum. You can see it from the list of subscription features.
It enables all the existing features on the platform, including language translation, enhanced matches, and double profile spacing. Double spacing allows you to stand out from other users in the recommendations.
The membership is refundable, so the service will return unused money if you cancel the account before the end of the subscription period.
Available Payment Options
The range of payment options is extensive. You can purchase the subscription using credit and debit cards, bank transfer, online banking, Paysafecard, and e-wallets.
Safety
Hong Kong Cupid is certified by Thawte. The website is entirely secure due to a valid SSL certificate. It means you can safely purchase a subscription and provide personal information when applying for identity verification.
The site does not contain viruses and hidden links, which means you can use it without trouble. We did not find a single Hong Kong Cupid review mentioning safety issues though.
User Verification and Fraud Prevention
Hong Kong Cupid applies user verification. Approved members receive a verification badge on their profiles. You need to provide a scan of the official identity proof (passport, ID card, or driving license).
This feature is optional, however. It results in a few verified profiles and plenty of fakes despite fraud prevention software. The service suggests you follow the safety tips to protect yourself against scams. In terms of anti-fraud protection, Hong Kong does not seem to be reliable.
FAQ
What is Hong Kong Cupid?
Hong Kong Cupid is an international digital dating platform that focuses on singles from Mainland China and Hong Kong.
How much does Hong Kong Cupid Cost?
Registration is free there. Communication, however, requires a premium membership. The prices range from £24.99 per month for Gold membership to £29.99 for a month of Platinum services usage.
Is Hong Kong Cupid Legit?
Hong Kong Cupid applies reliable digital security measures and holds a Thawte certificate, ensuring secure transactions. At the same time, it fails to fight against scams, which results in plenty of fake users on the platform.
Who owns Hong Kong Cupid?
Cupid Media, a digital dating software company registered in Australia, owns Hong Kong Cupid.
Does Hong Kong Cupid have a Mobile App?
You can use the service on the go via an official mobile application available on Google Play.
How do I Delete my Hong Kong Cupid Account?
Deletion of your account requires the following steps:
Proceed to Profile Settings in the account management section.
Go to the Switch Off Profile section and click on the account cancellation link.
Fill in your account password, select the reason for account deletion, and press Switch Off Profile.