THE BAD:
Very expensive
Limited features
No mobile app
Nowadays, online dating is becoming more and more popular among people of all developed countries. From the US to Thailand, men wish to find their true love to create a stable relationship, get married, and have kids and many of them decide to make use of the Internet in their search.
The first thing you need to know about this company is that it helps to connect with ladies primarily from Eastern Europe. It has been operating on business since 2003 and has a lot of offices in Russia and Ukraine that aim at finding the best mail order brides for marriage with foreigners. The rate of women's answers is 73% and the quantity of unique visitors is more than 50000 per month. The main page of Dream-Marriage.com says it helped 10000 couples to get together.
Yet, the customers have had not only a positive experience using this service. There have been cases of scam actions on the website that were noticed and explained in detail in the customers' testimonials. Unfortunately, DreamMarriage posts mostly positive reviews on its website and you will hardly find negative ones there, but still, there are such reviews on testimonials' platforms. That's why we created an overview of this online dating service to make you familiar with it before you decide whether to sign up with it.
How it works
Once you visit the main page of Dream Marriage, your attention is grabbed by the numerous images of sexy ladies who wish to start dating online.
Once you click on the blue button "Find your match", you are redirected to the page that reminds you of the number of ladies waiting for you to chat. Next, you are asked to answer a few simple questions, such as whether you will act respectfully towards ladies on the website, are your intentions serious or not, whether you like women to contact you first and whether you are ready to receive multiple messages from them. Please note that right after you've registered, you'll get a lot of mails from ladies. However, these messages do not look unique and fair enough to believe that their authors are real.
But let's get back to the registration process. When you have given the answers to the previously mentioned questions, the platform wants to know the appearance type of women you are interested in and the age group. After that, you have to enter your email, create a password, and finish your registration by inputting your date of birth and country and confirming you agree to the Terms of Use.
We strongly encourage you to read the Terms of Use before you start using this service or at least, read our review till the end as we mention some important safety issues of the company rules in the next sections.
When the registration process is over, you will get a confirmation letter to your email and will be able to start scrolling ladies' accounts on the platform. However, the information on the ladies' profiles does not really say anything clear about their hobbies, interests or life values. Take a look.
The top of the page gives a customer a few ways to contact the lady: through the call, chat, liking the profile or sending a virtual gift. But here comes the first frustration: you will not be able to communicate with the lady until you choose a membership plan for your account. To know more about them, proceed to the Pricing section of our review.
Audience
Dream Marriage targets men from 18+ from all over the world who wish to find a girlfriend or a bride from the Eastern European country for a relationship. Although there is no direct concentration on Russia, Ukraine, or Belarus, ladies from the first two countries make the majority of the women's profiles on this website. As the Dream Marriage's main page states, the ratio of women to men is 7:1, which would be nice if it would be real.
But how to reach all these women who are supposed to be waiting for you there? At the moment of your registration, you start getting a lot of messages from ladies' profiles which would be unlikely if these profiles were real (usually, it takes a few days after you signed up for the ladies to start texting you). Still, if you do not wish to communicate with those who texted you already, you can click on the Women Gallery tab or use the search engine provided on the website.
As you see, Dream Marriage's search is not specific enough as you cannot filter ladies by country, city, interests or other features. Only age filters are available and the ID number of profiles can be entered on the left. As a result, your search will not be narrow enough to find your ideal partner quickly.
Once clicked on the 'search' button, the result will be presented in the form of collage. By clicking on the photo of the desired woman, you will be able to start a chat or drop her a line if she's offline.
Pricing
Registration on the website is free for potential customers, but connecting with ladies is not free of charge. Free membership allows you only to view profiles and search for them. At first, you can choose a 3-day trial period to get to know how everything works for just $1 but once this time is over, you will need to select either membership plan that is provided. Take a look: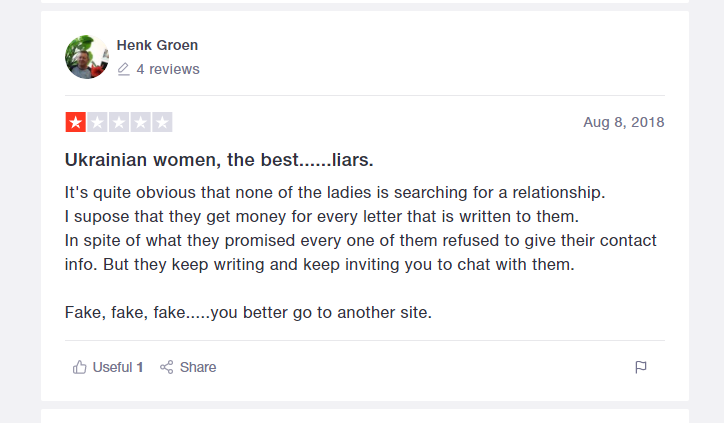 Safety
There are a few issues that made us doubt the safety of the Dream Marriage.
First, the prices of the service are high compared to other websites that provide the same online dating opportunity. Remember, online communication with foreign ladies should not be expensive.
Second, customers' feedback stated above shows that Dream Marriage does not care about providing high-quality service as it promises on its main page. Users often have issues with the number of their credits and the help of the Support Team.
And last but not the least issue to mention is paragraph 4 of the company's Terms of Use, where 4.4 part stated that no refunds can be provided to the customers as the sales through the website are final. Therefore, you have to decide whether to give your money to the Dream Marriage at your own risk.
FAQ
What is Dream Marriage?
According to the Dream Marriage review list and our experience of using this website, it is the platform that claims to provide an opportunity to date Russian and Ukrainian ladies online for a future marriage.
How much does Dream Marriage cost?
It depends on what you are looking for. You can sign up for free but this option allows you only viewing profiles. If you want to start dating and communicate with women, you have to choose one of the membership plans that costs from $9.99 to $99.99.
Is Dream Marriage Legit?
Based on the information we have found out while creating this review including users' testimonials, we would not advise signing up with the Dream Marriage as there is no guarantee you will get the credits you have paid for. Also, many profiles here look like being run by the website administrators instead of real girls.
Who owns Dream Marriage?
According to the website of the company, Dream Marriage is owned by Dream World Partners, Inc. that was settled in Reno, Nevada and launched in 2003. According to Bloomberg, Dream Marriage Group, Inc. was registered with the same address in 2006, which is likely to be the successor of Dream World Partners, Inc.
Does Dream Marriage have a mobile app?
No. The platform has only a desktop version of the website.
How do I delete my Dream Marriage account?
Main page of the platform, as well as its Terms of Use, provide no information on deleting the customer's account. All you can do is contact the Support Team to help you resolve this issue.