THE GOOD:
The app is compatible with Apple and Android devices
You can download this app and register for free
Dil Mil allows you to connect your account with Instagram
THE BAD:
Members with free accounts can get access only to ten likes per day
Advanced features require money
High prices
Specific audience – most members are South Asians
How It Works?
Those preferring doing everything on the go will appreciate the chance to download Dil Mil from the Apple or Play store. You'll also find a website, but it seems like it's impossible to find a match with its help. So, read our Dil Mil app review to figure out whether you need it on your smartphone.
There are two methods to register here – by connecting through your Facebook account or sharing your phone number. Singles picking the first variant can download their photos from this social media platform. Dil Mil will send you a code for verification if you decide to register using your phone number.
When uploading a photo, you have to make sure it's a high-quality one. Dil Mil doesn't provide basic recommendations to help members pick the best image and attract someone faster. It only has a list of things that aren't allowed in photos, including a blurry face, nudity, children, celebrities, sunglasses, half of your face, and more than one person.
This app has a scope of basic questions you have to answer to use it. Type your name, age, and pick appropriate answers connected with your religion, location, education, and career. Without this information, a member can't move to another step and set filters that help find a partner who meets their requirements.
You can make your Dilmil profile more attractive by providing additional information and photos. Press the icon that is responsible for settings and upgrade your data. You can write a few words about yourself. Describe your positive features to help other members get to know you better. A high-quality photo is the first thing that attracts members of dating sites and apps, but they need to get more information before picking a match. So, you can increase your chances to attract someone special by describing how kind, supportive, and easy-going you are.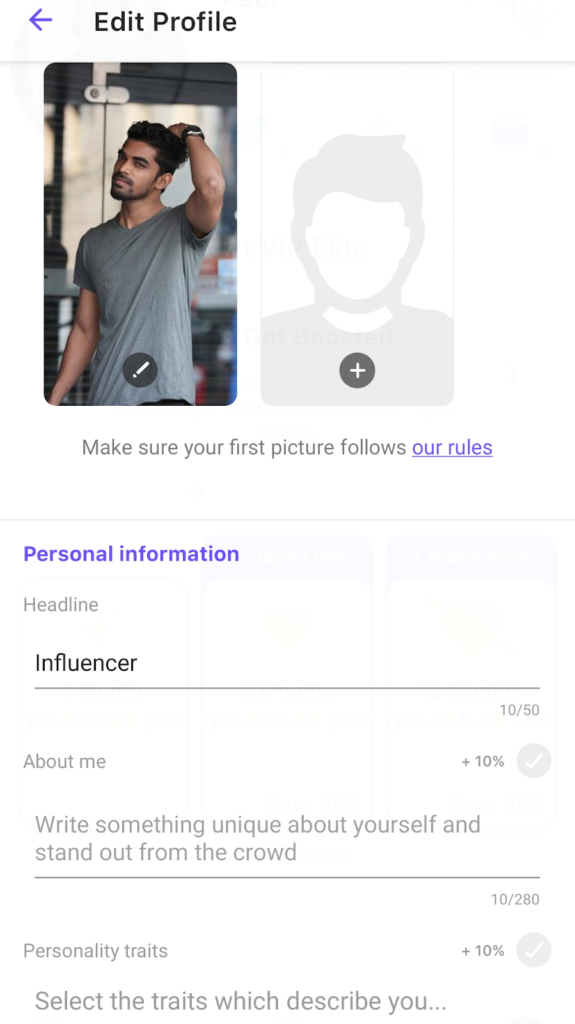 When setting filters, you narrow down the field of variants and inform the application about your preferences. Pick the members' ethnicity, religion, community, and Dil Mil will connect you with people who meet your requirements. However, it's necessary to be careful with filters because the chances are you'll miss an interesting person who can become an ideal match.
There's nothing new about this app, as it's mechanism is based on swiping. It's not an innovative solution because many other dating apps use it, too. You can also return a previous photo or view the next one by tapping left or right. Those searching for something innovative should read Dil Mil app reviews before downloading this app, as it doesn't stand out from the crowd.
Audience
Although this app is designed for people from South Asian regions, everyone can download and use it. However, there's no vast diversity here because the target audience is rather specific. Most members have South Asian roots even if they're based in another location now. That's why those looking for a wider selection of singles might prefer picking other applications. You can read other Dil Mil reviews, and you'll figure out that this software may be an excellent choice for people with South Asian background. But what about singles who belong to other nationalities?
According to the information placed on the Dil Mil website, 2 million singles use this app, and 1 match is created every minute. However, the chances that someone you like will desire to pick you are low. And the occurrence of fake profiles still exists, even though members register through Facebook or phone numbers.
Pricing
Advanced features like checking who likes you, boosting your profile to the top, getting super likes, and sending requests are paid. A Monthly plan costs $34.99, and 3 months cost $69.99. Dil Mil also has a Lifetime and Weekly package. They cost $449.99 and $11.99 accordingly.
The range of plans attracts members, but prices are rather high. It remains unfamiliar whether advanced features will help you find a match and start dating. Of course, you can pay $12 and try these options, but there's no guarantee that they are worth your money.
Safety
Dil Mil requires registration through Facebook or phone numbers, so it may be hard to create a fake profile. Members can also connect their social media accounts – it's easy to check whether it's a scam by clicking an Instagram button, for example. However, if you notice fraudulent activity or think that you've found a fake profile, inform the Dil Mil support team. Pick the account and tap three white dots in the upper right corner. Choose the necessary characteristics from the list: an inappropriate profile, stolen photo, harasser, spam, or other.
FAQ
What is Dil Mil?
Dil Mil is a dating app for those searching for potential partners. It's created for South Asian members, but everyone can download and use this software. However, most singles are connected with this region somehow.
How much does Dil Mil cost?
You can download Dil Mil, create a profile, and use basic features for free. All the advanced features are paid. This app has a Monthly, Lifetime, and Weekly plans. They cost $34.99, $449.99, and $11.99 accordingly. You can also pay $69.99 for 3 months.
Is Dil Mil legit?
Although there's nothing innovative about Dil Mil and members mostly have South Asian roots, this app is legit. Those paying for VIP features get access to the promised options.
Who owns Dil Mil?
It's operated by Dil Mil, Inc. The company was founded five years ago. It's headquartered in San Francisco, California.
Does Dil Mil have a mobile app?
Dil Mil app is compatible with Android and Apple devices. It's available for free.
How do I delete my Dil Mil account?
Enter your account and go to the "Edit Profile" page. Scroll down, and you'll find the "Delete" button.