THE GOOD:
Registration on the website is not necessarily required 
Plain, understandable interface 
Search criteria available
THE BAD:
Search criteria are based only on age 
Not too many profiles 
Too many grammatical mistakes on the website might deter potential visitors
Old-fashioned design 
Only ladies' profiles available 
No mobile application
How it works
If you have an intention to register and find a lady, you will need to spend some time searching for the registration button.
Looking as a typical website from the early 2000s, its design is somehow disturbing and it makes it impossible to call the site user-friendly.
While trying to find a registration form, it becomes apparent that the website works in a single direction. To clarify, ladies register and place their profiles on the website, and men are the ones who look through them. This can be stated from the fact that only two registration forms exist there: either for women or for other marriage agencies.
While turning to the registration process, you need to click on the registration form which you can find on the home page, and get redirected to filling in the personal profile.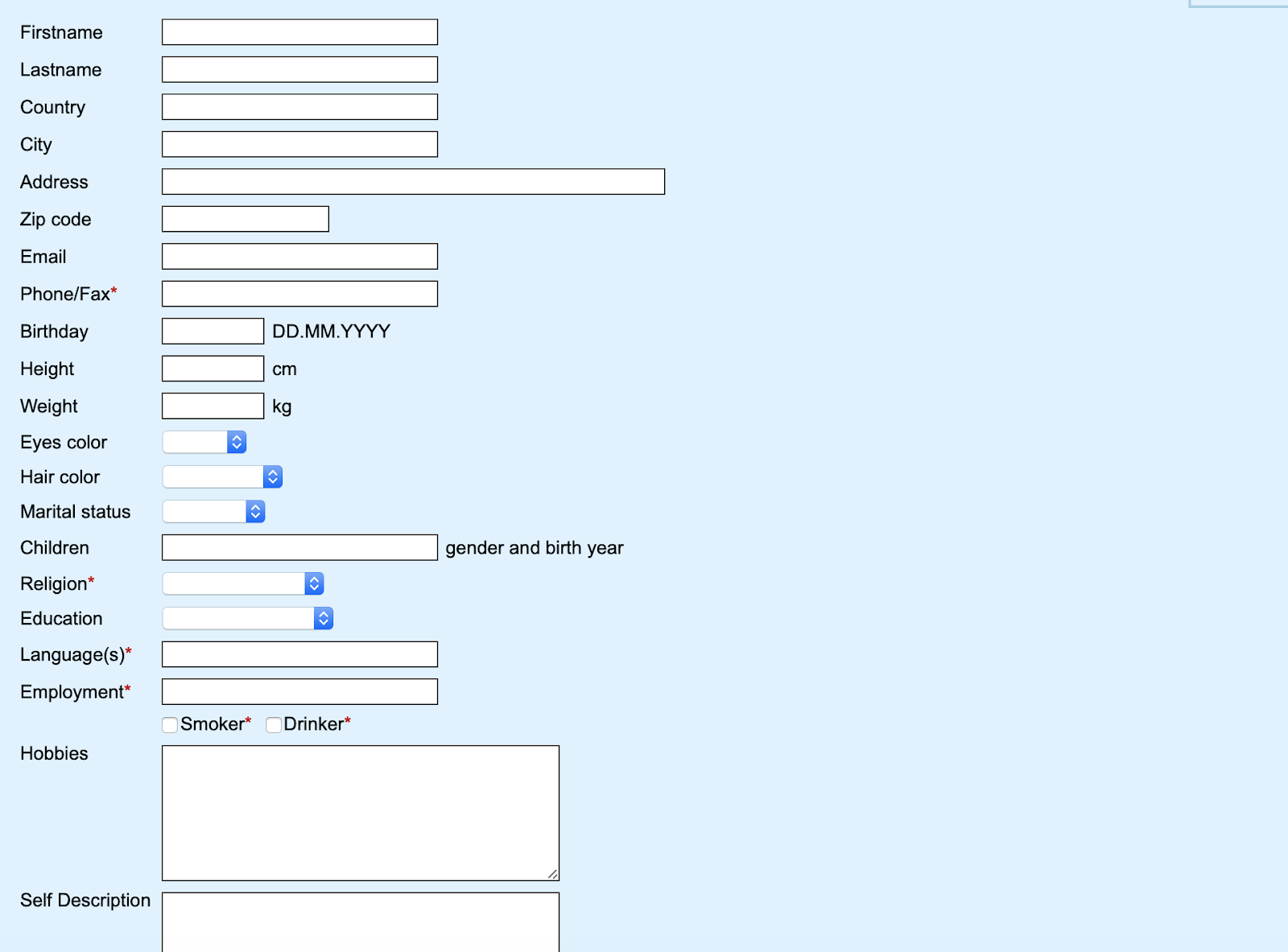 At this point, you will need to fill in all the fields. The fields marked with a red star are not mandatory. It turns out that the dating website pushes you to mention your home address, which might undeniably threaten your security.
Regarding the positive aspects of bridgeoflove.com, this form is quite easy to fill in as it contains sufficient information.
After you have completed filling all the data, you need to click the finish button. At this point, you need to make sure that you have outlined all the data correctly. If this is not the case, you will need to refill all the fields from the very beginning. Such an issue is quite disturbing because it basically takes a lot of time to tell everything about yourself once again.
After you have succeeded with filling all the data, the question pops up: "What should I do next?". After thinking about this for some time, it does not get better. If you start searching for a 'sign up' button, you will not find it anywhere.
It seems like you just create the profile and patiently wait until some man texts you, and you will probably get a notification via your email. Overall, it is confusing to figure out how exactly this website works.
Audience
Women of all age categories represent Bridge of Love's audience. In essence, the following age categories are:
from 18 to 25
from 26 to 35
from 36 to 45
46 and older
There are approximately 4000 women in the catalog who are still searching for their beloved ones. If you take a look at a couple of random profiles, you can conclude that the average women's age on the Bridge of Love is 35.
Regarding men, they can also be of different ages and from various countries. In fact, it was quite complicated to find any exact data about the male users of this website.
Pricing
Oddly enough, Bridge of Love offers quite a robust spectrum of services. Some of its basic services are:
Meeting with a lady
Sending a letter
Transportation services
Newspaper advertising
Foreign meetings
You are expected to pay some fixed fee for every service you request:
Uncovering a lady's address for 50$
Personal meeting for 100$
Sending a letter for 5$
Registering for 20$
Moreover, you need to pay 500$ each month to engage the search team in finding a lady.
Safety
It turns out to be extremely complicated to be sure that one's safety is not undermined while using the services of this dating agency. One point that makes us eager to call this website a total scam is the 'ordering the address' service. Namely, this service allows one to actually 'buy' a lady's address without her agreement. That is why there are significant doubts concerning these ladies' privacy and safety. Additionally, a man cannot be certain that his personality will not be revealed publicly.
FAQ
What is "Bridge of Love"?
Bridge of Love is a Ukrainian marriage agency that is believed to bring men and women from all over the world together. It provides multiple services aimed at assisting in finding a future wife and even reserving tickets and organizing tours throughout Ukraine.
How much does "Bridge of Love" cost?
It costs 20$ to register and 100$ to have your meeting organized. Moreover, in case you are indeed pretty serious about it and want to engage the team into finding a wife, you will need to pay 500$ per month.
Is "Bridge of Love" Legit?
There is not enough evidence to judge whether Bridge of Love is legit or not. Considering that it has existed online for almost 20 years (as it states), one can admit that it is legit. However, the privacy issue can still be questioned.
Who owns "Bridge of Love"?
A marriage agency in Kyiv owns the Bridge of Love.
Does "Bridge of Love" have a mobile app?
Bridge of Love does not have a mobile app at the moment. This fact makes it undeniably problematic to use the service.
How do I delete my "Bridge of Love" account?
To delete your account, you will need to contact the agency personally. You can either send a message via email or come to their office in Kyiv.