THE GOOD:
Tips and other useful recommendations on dating;
Strict security measures;
Efficient customer support.
THE BAD:
No mobile application for smartphones;
Poorly designed website;
Missing profile verification;
Inability to send and share videos.
How it Works?
When you first visit the homepage of Asian Feels, you see light design with a nice and peaceful environment. At the same time, this kind of minimalism can make you think that there is some missing information. And this is partially true. The website is developed in a way that makes it difficult to find some important information like user's policies, price rates, collection of profiles, and so on. Most dating websites have this kind of information split into the sections which can be found on the top of the homepage. Well, this is not the case with Asian Feels.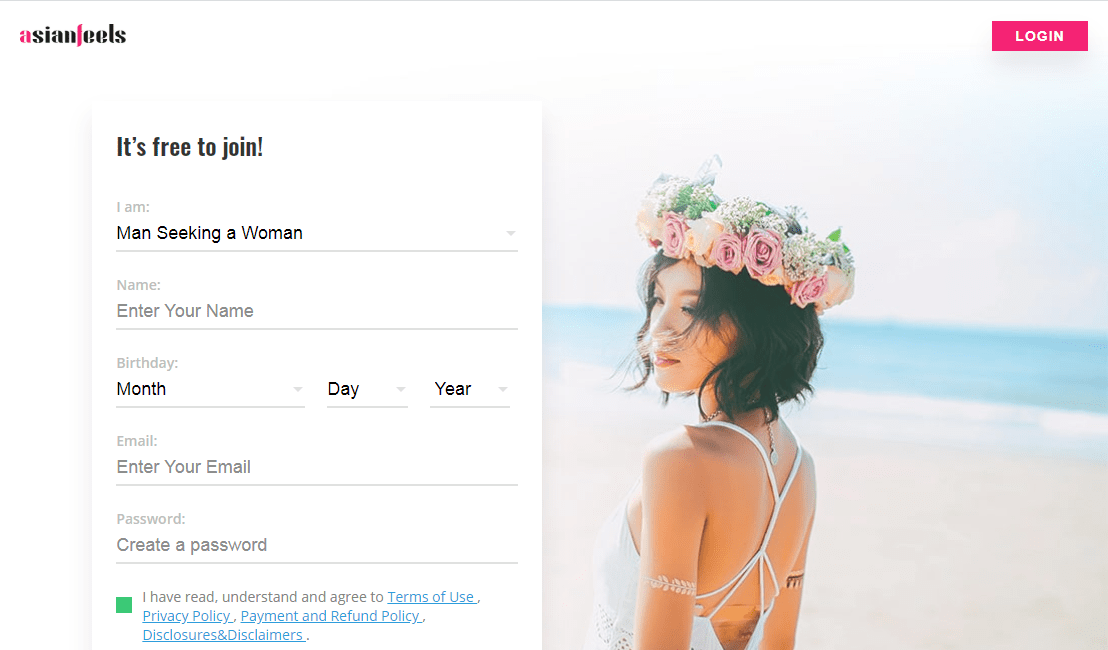 As soon as you open the main homepage, the website encourages you to register an account. Luckily, it does not cost a thing. The registration process is quite fast and easy. All you need to do is to mention your gender preference, full name, date of birth, email address, and password. When all the information in the form is completed, make a final check before final submission. Then, a confirmation link will be sent to your email box and you'll need to follow it. That's it!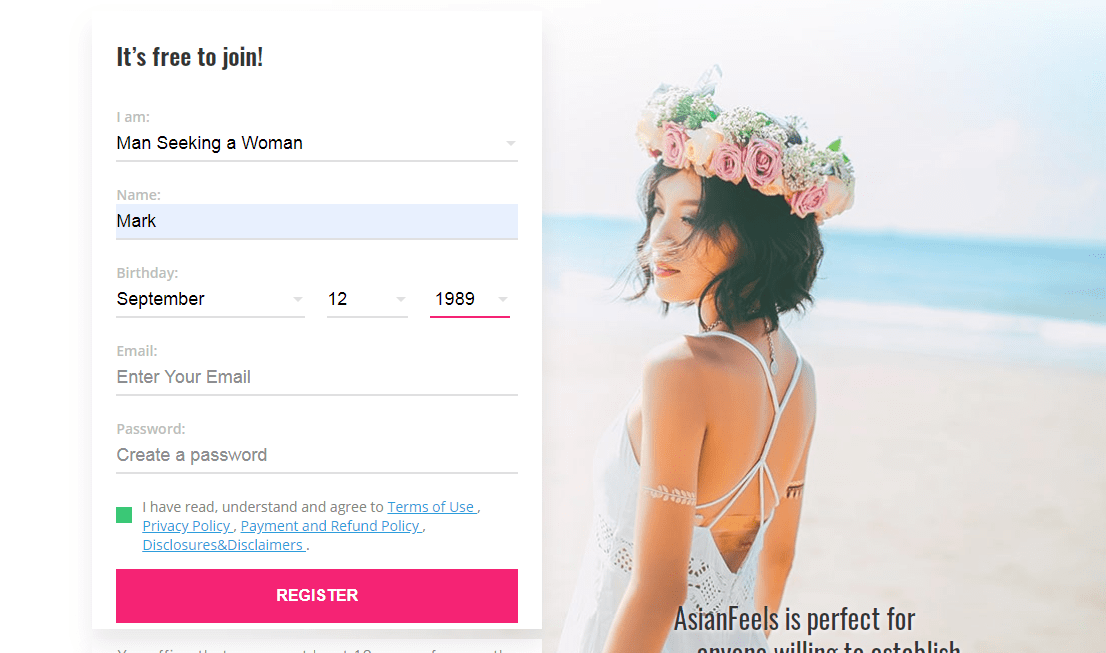 But to enjoy your trip among charming Asian women, you cannot leave your profile empty. It will take some time to complete your preferences, personal details, and some other information in your profile.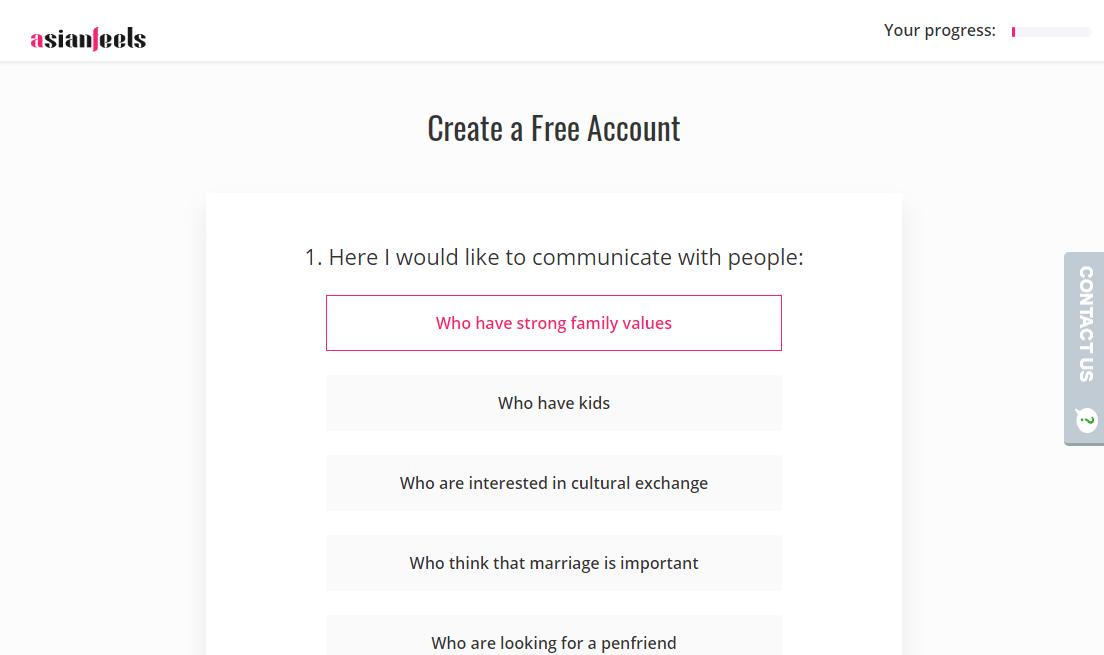 While completing your AsianFeels profile with extra details, you should make sure that you include all the important nuances about you and your perfect match. This accuracy is required to maximize your chances of finding a perfect match. Do not try to avoid any steps and be as specific as possible. For instance, you will be asked to state your country and city of residence, appearance characteristics, smoking and drinking habits, educational level, career pursuits, type of relationships you are interested in, and even body shape parameters.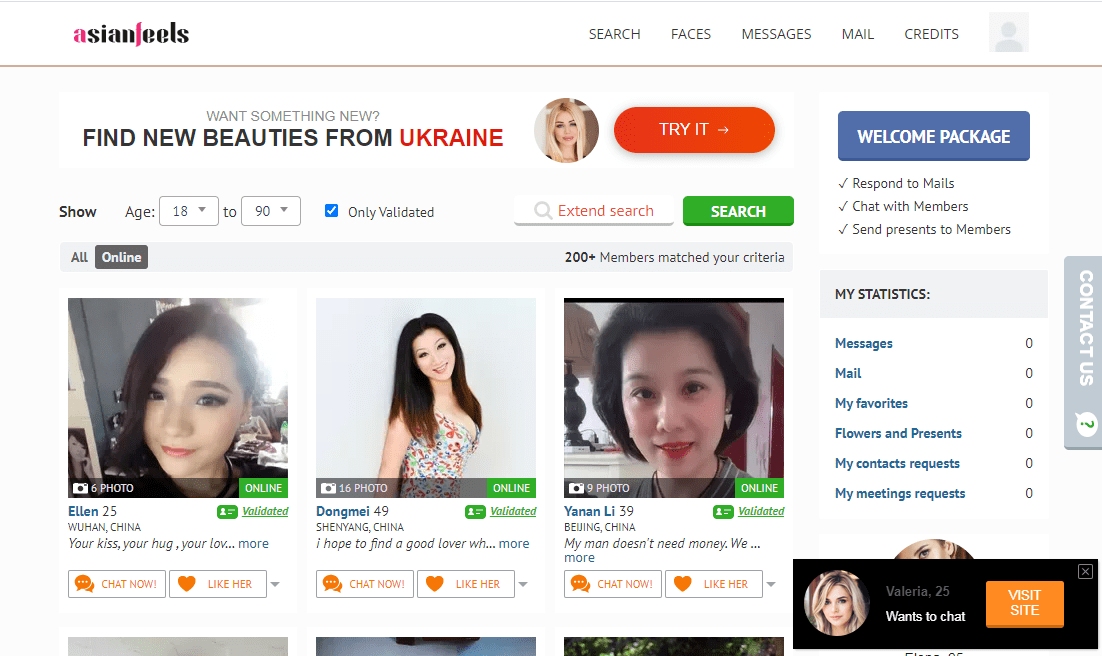 Once you look through the profiles of registered members, you will surely find a couple of candidates to take your chance with. You will have two major options for communication at Asia Feel. First, there is an instant messenger that allows you to send and receive messages anytime. Apart from a written text, you will be able to send different emojis and funny stickers, as well as attach photos and pictures to the message. With the maximum limit of 300 symbols per one message, you will have enough space to say what you want. Otherwise, you can always send several messages, as there is no limit to that. Second, there is an opportunity to send a typical letter. Of course, this is a less popular method of communication as it takes much time and effort.
Target Audience
Whenever you decide to register on a dating website like Asian Feels, you should learn the target audience and profiles' quality. According to the Asian Feels review, the website has very limited access to its data unless you become a registered member. Generally, the website has a collection of more than 240 thousand active users. The main part of an Asian Feels' audience is single women from Asian countries like China, Japan, Korea, Vietnam, and so on. Their average age is 25 years and above. As for the male audience of this dating website, it is mainly represented by men from the USA and Western Europe. Their average age is 35 and above. Most registered users are there to find friendship, serious relationships, and marriage.
Pricing Policy
Similar to other dating websites, Asian Feels offers both free and fee-based subscription. The good thing is that the registration can be processed for free without any extra fees involved. At the same time, the full access to the website's operations can be accessed with advanced packages only. The service charge is interrelated with a credit system of payments. Every new customer receives 20 credits for free to check the available communication options. Once you want some more credits, there is the fee starting from $9.99 per 20 credits. The more credits you need, the cheaper the price per credit is.
Compared to the monthly membership payment, this one happens to be more costly and needs constant control of the number of credits. Otherwise, there is a high risk to lose every single penny in one day.
Safety Measures
Most dating services cannot provide you with a 100% guarantee that you will never meet a scam or fake account on their website. AsianFeels is not an exception. Even though they have 128bit SSL encryption installed on the site and use high-security processing services verified by Visa and MasterCard SecureCode, missing profile verification makes the website more accessible for scammers. Whenever you feel being under the risk of facing fake accounts or scammers, don't hesitate to file an abuse report to encourage the community's safety. That's the reason why they have a page showing the users how to protect their personal data when using an online dating resource.
FAQ
What is Asian Feels?
Asian Feels is an international dating platform that has been on the market for more than ten years. Its mission is to connect single women from Asia with men from the Western countries.
How much does Asian Feels cost?
Every new visitor receives 20 credits for free to check the available communication options. Once you want some more credits, there is the fee starting from $9.99 per 20 credits. The more credits you need, the cheaper the price per credit is.
Is Asian Feels legit?
Yes, it is. The Asian Feels website is legit and secure. Still, it is highly recommended not to share your personal information with other members of the service to minimize possible safety risks.
Who owns Asian Feels?
The official homepage of this service does not contain any information about the owner or headquarter of the company.
Does Asian Feels have a mobile app?
No, Asian Feels has no mobile app designed for smartphone holders. Luckily, they offer a mobile browser that is supported by most of the modern phones. It features all the features available on the desktop version of the website.
How do I delete my Asian Feels account?
You can delete your account in your profile settings. Click the "deactivate the account" button to confirm your intention. At the same time, you will be able to reactivate your account whenever you feel like it.