THE GOOD:
The website's audience counts over 7 million members.
Asiafriendfinder has a free mobile app.
THE BAD:
Asiafriendfinder app is available only in the Apple store.
The site is hard to navigate.
The audience is limited to Asians and those searching for partners with Asian roots.
Most features are paid.
How It Works?
Asiafriendfinder website looks a little bit old school. Even though the platform is rather informative and provides a user with the necessary data about the service, features, and terms of use, it needs to be redesigned. Many matchmaking sites are better due to high-quality images, relevant color scheme, and the experience they give to a user.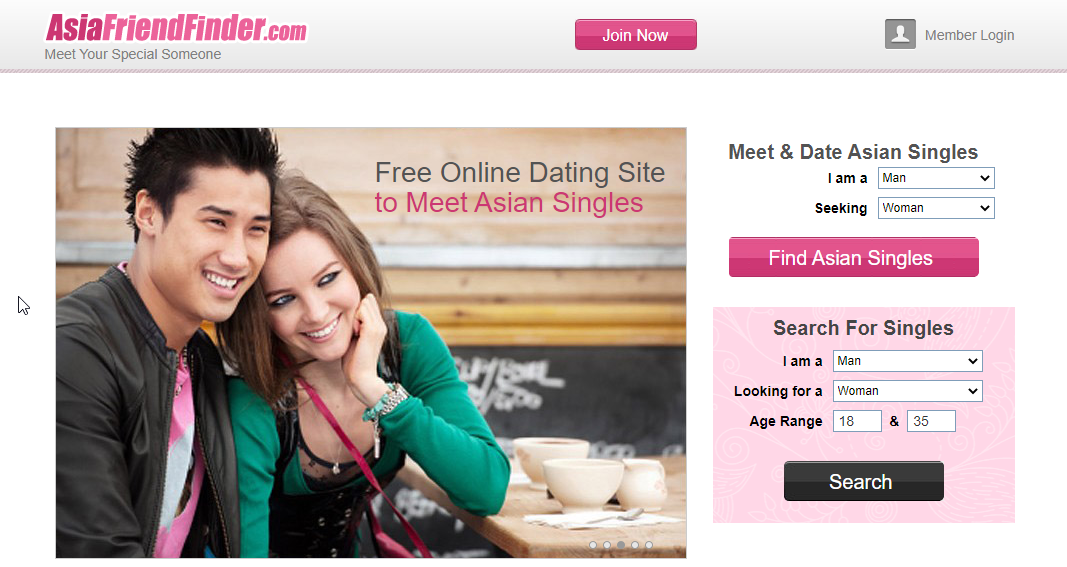 The registration takes only a few minutes. A newbie has to identify their gender and the gender of a partner they're searching for. The next steps require you to provide the information about your birth date, location,  zip code, email, user name, and password. After you complete these forms, you have to choose the answers concerning your race, body type, orientation, and marital status. And the last step is where you write a title and describe yourself.
After registration at Asian friend finder, it's necessary to edit your profile, add images, and describe yourself to attract a potential partner. You can write a few words about the qualities you expect to see in your future boyfriend or girlfriend. Thus, members without the described features won't disturb you. Of course, this option will help you find a perfect match, but there's a chance to miss someone special.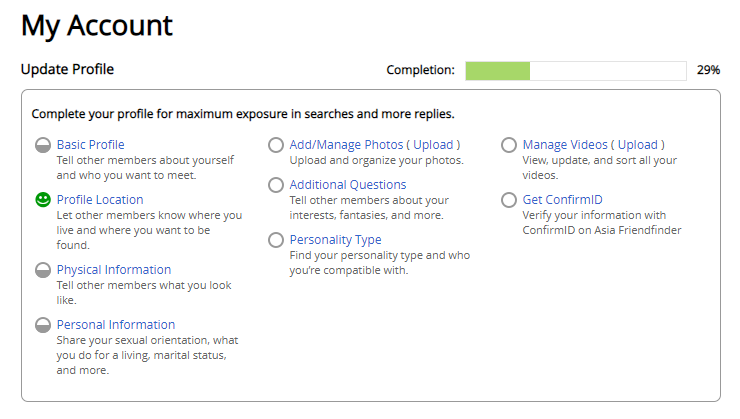 The more details about your personality and appearance you provide, the more chances to be noticed you get. Describe your physical features by selecting appropriate filters – height, body type, hair color and length, eye color, and race. If another member is searching for a partner with the same characteristics, you'll appear in search results.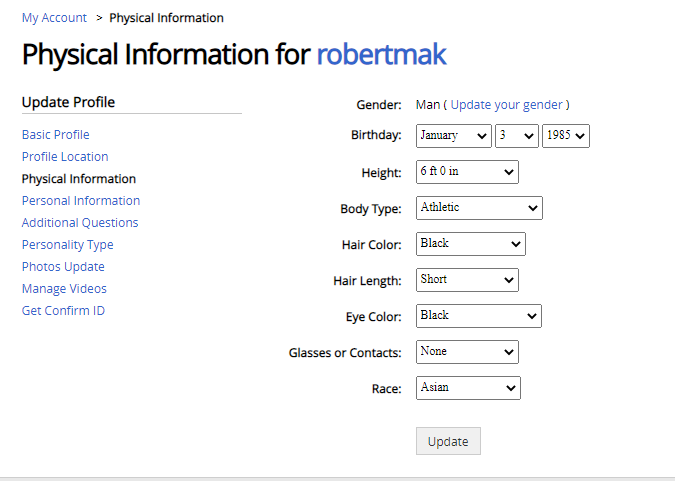 The next step requires you to provide personal information. You can skip it, but this data will help you attract other members. Besides, your profile will pop up in search results. Apply filters concerning your sexual orientation, habits, occupation, religion, education, marital status, and many more.
If you decide to answer additional questions, you'll have to be ready to dedicate some time to them. Asiafriendfinder has a list of categories, including dating preferences, dreams and goals, personality traits, outlook on life, sports,  physical stuff, hobbies, work and living environment, and entertainment. Pick the section and press the "Update" button to write answers. There's no doubt that additional information might help you find an ideal match. But it's unlikely that an answer to a question, "If you were a car, what kind of car would you want to be?" will make someone think you're the one.
When searching for your soulmate online, it's important to provide all the necessary information about your personality. Asianfriendfinder offers you to share such details, but it looks like a psychological test. You should be careful with answers because some of them may characterize you in the wrong way. If you choose "Strongly disagree" to answer the question, "When I'm in a relationship, I believe there's always room for improvement," other members will think you're a bad choice.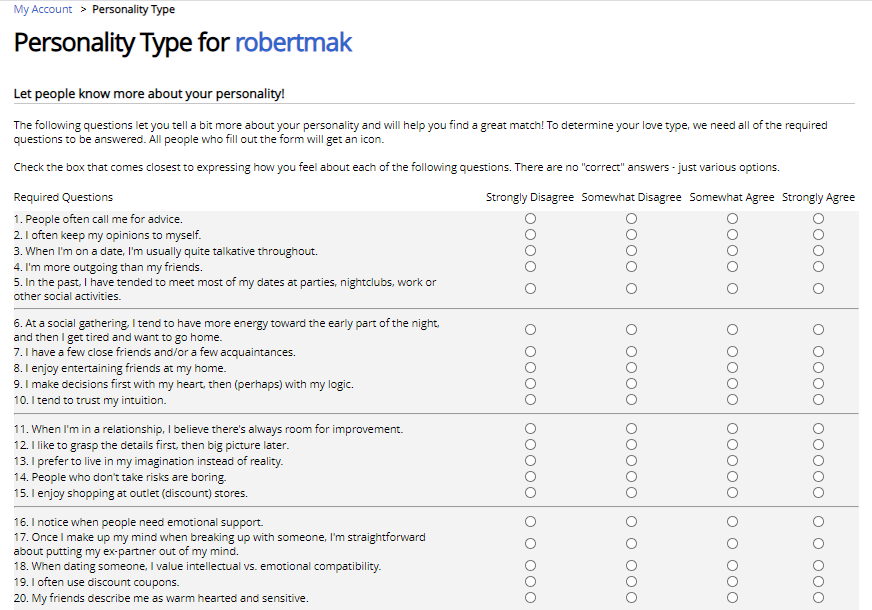 Audience
The audience of Asiafriendfinder counts over 7 million people from around the world. Mostly, the site is crowded by Asians and Western singles seeking potential partners from China, Korea, India, Thailand, and Japan. Members are friendly and open to new people. Even if you fail to meet a soulmate here, you'll have a chance to have fun, as this platform has a forum and chat rooms where you can communicate like on a social media website.
Since this service is designed for Asians, it can be a problem to find a partner of another nationality. It has members with different roots, but they mostly search for Chinese, Japanese, Malaysian, and Indian matches. Other platforms have a wider diversity of users.
Pricing
Asiafriendfinder has a range of free features. The service allows you to add photos, create hotlists, use chat rooms and forums, write posts, and comment blog articles. But other features, including flirting, viewing profiles and images of a larger size, watching videos, contacting members, and adding friends, are paid. If you want to upgrade your communication experience, it's necessary to buy one of Asia friend finder packages, which include the following:
Silver:
3

months –

$9.63

per month

1

month –

$14.88
Gold:
3

months (

+1

month for free) –

$12.22

per month

1

month –

$18.88
Safety
Asiafriendfinder doesn't check the member's information. Registration only requires your email, so everyone can sign up here. Many services ask newbies to provide their phone numbers and send special confirmation codes to check them.
If you want, you can verify your information and let other members know you're a real user. Upload a copy of your ID card, passport, or driver's license to get a special badge that will be placed near your username. It will increase your chances of finding a match here. Even though it's an excellent idea, members don't hurry up to share their ID details. It's hard to find profiles with verification badges. As far as protection measures must be improved, you can check our Asian friend finder review once again to determine whether this site is a worthy choice.
FAQ
What is Asiafriendfinder?
Asiafriendfinder is a matchmaking service with over 7 million members. It's created for people with Asian roots who are based in India, China, Japan, Malaysia, Thailand, Korea, and other countries. Westerners appreciating exotic beauty can register here, too.
How much does Asiafriendfinder cost?
You can use Asiafriendfinder free standard features, including uploading images, joining chats and forums, and writing posts, or buy one of the service's packages with advanced options
Silver:
3

months –

$9.63

per month.

1

month –

$14.88

.
Gold:
3

months (

+1

month for free) –

$12.22

per month.

1

month –

$18.88

.
Is Asiafriendfinder legit?
Asiafriendfinder is a legit matchmaking platform with more than 7 million members. The service's website has the necessary information connected with payments, terms of use, and features. Members get access to promised features for their money.
Who owns Asiafriendfinder?
Asiafriendfinder is owned by Various, Inc., one of the leaders in the social media industry created by Andrew Conru 26 years ago. It operates other dating platforms, including AdultFriendFinder and TSDates.
Does Asiafriendfinder have a mobile app?
The Asiafriendfinder app is available only in the Apple store.
How do I delete my Asiafriendfinder account?
Once you've decided to deactivate your Asiafriendfinder account, it's necessary to enter the cabinet of your account and click "Close account." The platform will take you to the page with a list of issues the service can resolve for you. Pick "Please delete my account" to deactivate your profile.