THE GOOD:
Thousands of hot Latinas
Live chat and video chat
THE BAD:
Live chat, video chat, and messages are available to free users
Lots of women will send messages to your newly created profile (even if you haven't uploaded a photo yet). Some people find it suspicious
The price is quite high
How does it work?
So, the first thing you'll have to do is create an account. You can sign up via Google — it's very fast, and you'll only have to enter your email address and password to sign up (it's 100% safe, and this information can't be stolen). Or, you can sign up using any email address — click "Take A Chance", enter your email and password, and click "Continue".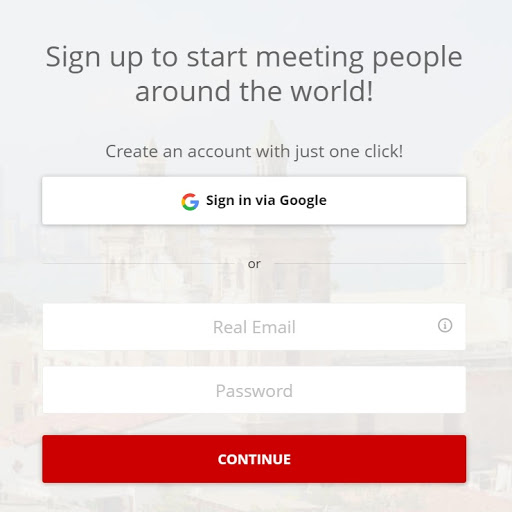 After that, you'll have to spend about 5 minutes to create an account — the step by step guide is here:
Enter your name/nickname, choose gender, DOB, and hometown.
Then, write a profile description (don't write an essay here, please. The description must be short and catchy).
Say a few words about your ideal partner. How does she look like? How old is she? What views does she share? What about her character traits?
When it's done, it's time to choose your interests. You are not limited here.
Then, it's time to upload a photo (you can only upload 1 photo at this stage.
When your profile is created, you'll see hundreds of ladies.
But before you start chatting, you will have to check your email — go to your email inbox, open the mail, and click "Confirm your account".
Click "Search" to see the search options. The number of options is quite good, by the way — you can choose the age of your ideal woman, her city, and her interests. Click "Show Matches" to see the search results.
But before you start sending messages, you'll have to buy credits. You can use your credit card or your PayPal account.
After that, you can use live chat and send an email. Choose one of Amolatina girls and click "Send Emails". We highly recommend starting with a live chat — it's the cheapest communication method here.
You can also send real gifts to the lady you like most — there are dozens of interesting gifts, from flowers to an iPad or iPhone. Yes, these gifts are great, but it makes sense that they are quite expensive. Thus, a bouquet of 15 red roses will cost you 435 credits (it's something about $110), and iPhone 8 will cost 3900 credits (it's $780-800).
Audience
Amolatina dating site has thousands of very hot Latin ladies, and when we say "very hot" we actually mean it — you'll see what we're talking about with your own eyes. The absolute majority of profiles are very detailed — we haven't seen any accounts with less than 10 photos. What's more, almost all of them have a detailed description and a detailed list of interests. The information about languages, education, occupation, relationships, kids, and body type, is also here. The profiles look real — yeah, all these women are extremely beautiful, but it doesn't mean that they are fake. It's just Latin America.
Pricing
Well, the prices are quite high, as we've said. You can buy a 150-credit package for $50/month, a 600-credit package for $150/month, and a 1500-credit package for $300/month. Live chat costs 1 credit/minute, and 1 email costs 10 credits. The problem of Amolatina.com is that it's very impossible to control your spending here. You buy a 150-credit package and feel like everything is ok, but then you see dozens of Amolatina ladies who look like Brazilian top models and respond to all of them. So, you should be careful about what you spend here, that's a fact.
Safety
We have found dozens of Amolatina reviews, but we didn't find any Amolatina scam complaints — so we can safely say that it's a 100% safe service. It uses all the latest encryption technologies and the payment page is protected. Its reputation is almost perfect, and it's owned by Anastasia Global company. Unfortunately, there is no ID verification at Amolatina — so we can't guarantee that 100% of women are real. On the other hand, you can minimize the risks easily — just don't send them money and everything will be ok.
FAQ
What is Amolatina?
Amolatina dating site is one of the biggest Latino dating services in the world. This service offers lots of messaging tools and lots of search options, and it's really a very decent agency, with no doubts. But still, it's not perfect — it doesn't offer romance tours, and the price is quite high.
How much does Amolatina.com cost?
150 credits per month — $50
600 credits per month — $150
1500 credits per month — $300.
1 minute of live chat costs 1 credit, 1 email costs 10 credits, 1 minute of video chat costs 6 credits. You can also buy presents, such as a bouquet or a basket of chocolates.
Is Amolatina.com legit?
The reputation of this site is perfect, and there are many positive reviews. But some critics think that some of the Amo Latina practices can be called a scam — thus, even the newly created profiles get lots of messages. You can use video chat to make sure you're talking to a real person.
Who owns the Amolatina dating site?
Amo Latina is owned by Anastasia Global (the company that does also own such popular services as AnastasiaData and AsianBeauties), so its reputation is almost perfect. Anastasia Global group is one of the key players in this industry.
Does Amo Latina have a mobile app?
Yes, there is an Android app, which works quite fast and offers 100% of the features and communication methods available for PC users. You can download the app in Google Play. Unfortunately, there is no iOS version of the app.
How do I delete my account?
You can make your profile empty (go to My Profile, then edit your data, and click "Save") or you can delete your profile. To delete it, you'll have to contact the support service and tell them that you don't want to use Amo Latina anymore.